Are you looking to learn how to cook bagel bites in an air fryer? You're in the right place! Air fryers are quickly becoming one of the most popular kitchen appliances due to their convenience and health benefits.
They can be used for a variety of dishes, including bagel bites! In this article, you'll learn how easy it is to make delicious bagel bites in your air fryer.
From prepping your ingredients to enjoying the final product, we'll cover all the steps necessary for making yummy snack treats everyone will love.
So let's get started on our journey towards delightful bagel bite perfection!
How To Cook Bagel Bites In An Air Fryer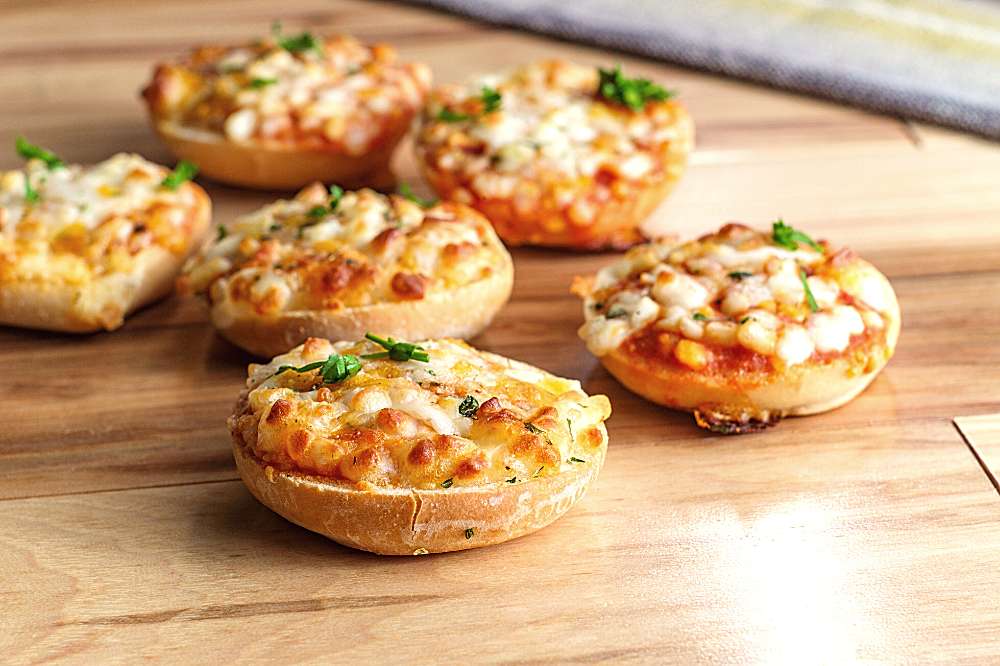 Ingredients To Make Bagel Bites
These are the ingredients needed to make bagel bites in the air fryer:
Bagel Bites
Cheese slices
Pizza sauce
Instructions To Prepare The Bagel Bites
To prepare the ingredients before cooking in the air fryer, you must assemble your Bagel Bites. Place a cheese slice on top of each bagel bite and top with a spoonful of pizza sauce.
Make sure all the bagels are evenly covered with cheese and sauce. Once assembled, they are ready to be cooked in the air fryer.
See also: How To Cook Battered Fish In Air Fryer?
Air Fryer Bagel Bites
COSORI Air Fryer (Check Price On Amazon)
Now it's time for cooking! Take the ingredients you have prepared before and follow this straightforward instruction for cooking delicious bagel bites in your air fryer.
To begin, preheat your air fryer to 375°F (190°C).
Once the air fryer has reached the desired temperature, place the Bagel Bites in a single layer and cook for about 8-10 minutes.
Make sure you check often and shake or flip them halfway through cooking to ensure an even crisp on both sides.
When done, remove from heat and let cool before serving or storing. Enjoy!
What To Serve With Air Fryer Bagel Bites?
There are many ways to serve your bagel bites. There is no right or wrong. Everyone has different tastes. The suggestion below is what we recommend.
A side of fresh fruit salad – combine diced strawberries, blueberries, and kiwi for a fruity twist!
A creamy dip like ranch dressing or French onion dip adds extra flavor to the bites.
Pico de gallo with tomatoes, onions, cilantro, and jalapeno peppers for an added spicy kick!
Veggie sticks such as carrots and celery with hummus or tzatziki sauce on the side.
Creamy macaroni and cheese topped with crispy crumbled bacon pieces – perfect comfort food!
Caesar salad tossed in a homemade vinaigrette dressing – adds a great crunch to each bite!
Guacamole served alongside chips – adds richness and texture to this dish!
See also: How To Cook Baby Back Ribs In Air Fryer?
Recommended Tools To Make Air Fryer Bagel Bites
Air Fryer
An air fryer is an essential tool for making bagel bites as it allows you to make them quickly and evenly cook the snacks without using lots of oil or fat.
When choosing an air fryer, look for a wide temperature range to adjust cooking times and temperatures accordingly. Also, buy one with a nonstick coating, so your bagel bites don't stick when cooking.
Tongs
Tongs are great for flipping over your bagels during the cooking process, as well as removing them from the basket once they're done baking.
Make sure you get ones with rubberized ends so they won't scratch up your air fryer's surface during use, and always keep them clean before using them to avoid contamination of any kind.
Baking Sheet/Tray
A baking sheet or tray is necessary if you want to put additional ingredients on top of your bagel bites before putting them into the air fryer (e.g., cheese).
Be sure to choose an oven-safe and durable enough not to warp under high heat while being cooked in the air fryer. Something like aluminum works best!
See also: How To Cook Barramundi In Air Fryer?
Storage Tips For The Leftover Air Fryer Bagel Bites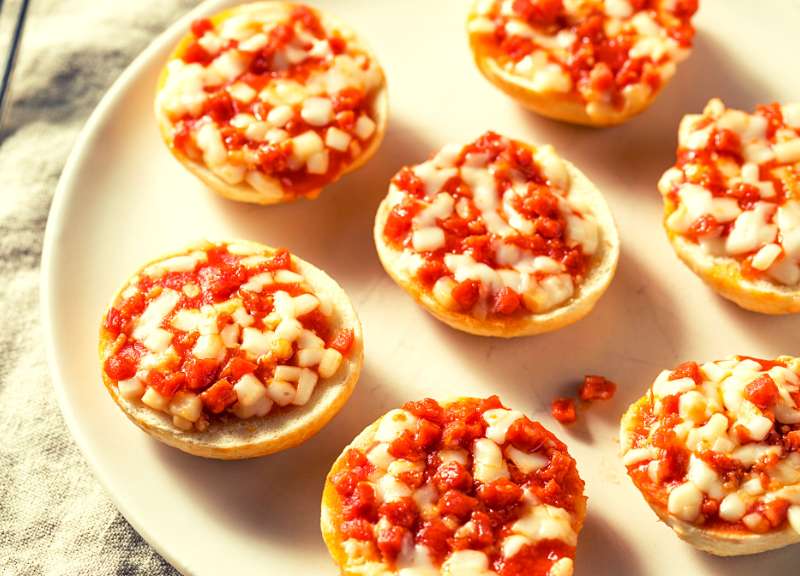 The best way to store any leftover Air Fryer Bagel Bites is to ensure they're properly cooled and stored in an airtight container. This will keep them fresh for up to four days.
Once the bagel bites are cool, place them on a plate or in a shallow bowl before transferring them into the storage container.
Make sure that the lid of your storage container is tightly sealed so no air can enter and spoil the food. It's also important not to overcrowd the container as this can cause premature food spoiling.
Airtight containers are ideal for storing any leftovers since they create an oxygen-free environment that prevents spoilage from occurring too quickly due to oxidation caused by oxygen exposure.
These containers come with tight lids that help trap moisture and prevent bacteria from forming inside, making it easier for you to enjoy your leftovers without worrying about their safety or quality.
Additionally, when using these containers, it's important not to fill them more than three-quarters full, as this will leave enough room for air circulation.
See also: How To Cook Baby Carrots In Air Fryer?
How To Preheat The Frozen Bagel Bites In The Air Fryer?
To preheat frozen Bagel Bites in an air fryer, set the temperature to 350 degrees Fahrenheit. Then place the bagel bites on a single layer on the air fryer basket and cook for 4-5 minutes.
Flip them over after 2 minutes of cooking time. Once they are done, remove them from the heat and enjoy!
Preheating frozen Bagel Bites in an air fryer is a fast and easy way to prepare these tasty snacks for your family or guests.
It's important to ensure that you set the temperature correctly before beginning – if it's too low, your bagels won't be cooked enough, and if it's too high, they could burn quickly.
Be sure to spread the pieces out into a single layer so that each one cooks evenly. After two minutes of cooking time has elapsed, flip them over with tongs or a spatula so that both sides can become golden brown without burning.
Once they are done (usually after four or five minutes), remove them from heat immediately – as they continue to cook even when not inside the machine anymore – then plate up and enjoy!
Frequently Asked Questions
Can I Put The Bagel Bite Tray In The Air Fryer?
Yes, you can put the bagel bite tray in an air fryer. However, it is important to note that cooking times may vary depending on the size and type of air fryer used.
How Long Do You Cook 5 Bagel Bites In The Air Fryer?
Five Bagel Bites should be cooked in an air fryer for about 8 minutes at 375°F (190°C).
Are Bagels Bites Good In The Air Fryer?
Yes, Bagel Bites can be cooked in an air fryer. They will come out crispy on the outside and soft on the inside.
Can You Open Air Fryer While Cooking The Bagel Bites?
Yes, you can open the air fryer while cooking Bagel Bites. However, it is important to be careful as hot oil may splatter out of the basket. It is also recommended to wait until the timer has finished before opening the air fryer.
How To Make 2 Ingredient Bagel Bites In Air Fryer?
To make two-ingredient bagel bites in an air fryer, you will need one package of frozen mini bagels and 1/2 cup of your favorite pizza sauce. Preheat the air fryer to 400°F. 
Place the frozen mini bagels on a baking sheet or plate and top each with about one tablespoon of pizza sauce. Place the baking sheet into the preheated air fryer basket and cook for 8 minutes, flipping halfway through cooking time. 
Conclusion
So, now you know how to cook Bagel Bites in an air fryer. With easy-to-follow instructions and helpful tips, you're sure to have delicious, crispy bagel bites that taste just like they came straight from the oven!
Enjoy your perfectly cooked snack with friends and family for a fun meal everyone can enjoy.
Bon appetit!