Are you looking to learn how to cook barramundi in an air fryer? You're in the right place! Cooking barramundi in an air fryer is a quick and easy way to get delicious, crispy fish on your plate.
In this article, you'll learn how to cook barramundi with expert tips for the perfect dish every time.
So if you're ready for some tasty air-fried fish, let's get started!
How To Cook Barramundi In An Air Fryer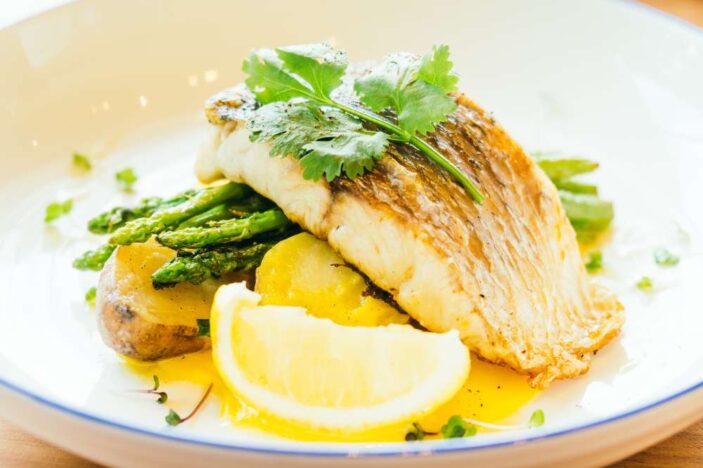 Ingredients To Make Barramundi
These are the ingredients needed to make barramundi in the air fryer:
Two barramundi fillets
One tablespoon of olive oil
Salt and pepper to taste
Lemon wedges for garnish (optional)
Instructions To Prepare The Barramundi
Clean the fish by rinsing it under cold running water. Pat dry with a paper towel.
Drizzle each fillet with 1/2 tablespoon of olive oil.
Season generously with salt and pepper, rubbing the seasoning into both sides of the fish.
Place the prepared barramundi on a plate or tray and set aside until ready to cook in the air fryer.
See also: How To Cook Baby Back Ribs In Air Fryer?
Air Fryer Barramundi
COSORI Air Fryer (Check Price On Amazon)
Now it's time for cooking! Take the ingredients you have prepared before and follow this straightforward instruction for cooking delicious barramundi in your air fryer.
Preheat the air fryer to 375 degrees Fahrenheit (190°C) for 5 minutes.
Arrange the barramundi fillets in the air fryer basket, ensuring they are not overlapping, and all fit into a single layer.
Place the basket in the preheated air fryer and cook for 10-12 minutes or until golden brown on top and cooked through (internal temperature should reach 145 degrees F).
Once done cooking, remove the fish from the air fryer using tongs or an oven mitt to avoid burning yourself with hot steam coming off of it when opening your appliance's door.
Then let cool before serving.
COSORI Air Fryer Pro LE 5-Qt, for Quick and Easy Meals, UP to 450℉, Quiet Operation, 85% Oil less,…
CUT DOWN 85% OIL :With 360° rapid heat circulation technology, feel free to enjoy the same crispy textures as traditional deep frying with up to 85%…
ENJOY MEALS IN MINUTES: This air fryer cooks with industry-leading temperatures up to 450°F, making heating efficiency 20% faster than before. Help…
9 EASY FUNCTIONS: 9 one-touch cooking functions on a tempered glass display let you preheat and add personalized Shake Reminders. Let's add some fun…
COMPACT BUT SUITABLE CAPACITY : It can hold 5-quarts of cooking space, which fits enough food for 1-4 people, with compact design takes up little room…
DISHWASHER SAFE: With a nonstick basket, made without BPA and PFOA, easy to clean
What To Serve With Air Fryer Barramundi?
There are many ways to serve your barramundi. There is no right or wrong. Everyone has different tastes. The suggestion below is what we recommend.
Roasted Sweet Potato Wedges: Enhance the flavor of your air fryer barramundi by serving it with roasted sweet potato wedges cooked in olive oil, garlic, and herbs.
Grilled Asparagus: Add freshness to your dish with grilled asparagus lightly seasoned with salt and pepper.
Citrus Salad: Brighten mealtime by adding a citrus salad made from oranges, lemons, and limes cut into segments or slices and dressed in extra virgin olive oil, honey, and freshly chopped mint leaves.
Coconut Rice Pilaf: Create an exotic side dish with coconut rice pilaf made from basmati rice cooked in coconut milk, garlic, and ginger for added depth of flavor.
Avocado Salsa: Make your barramundi unique by topping the fish with freshly made avocado salsa – diced avocados, red onion, and jalapeno chillis combined.
See also: How To Cook Baby Carrots In Air Fryer?
Recommended Tools To Make Air Fryer Barramundi
Air Fryer
A great tool for making barramundi with crispy, flavorful skin. Buyers should consider size and power when selecting an air fryer.
Larger models are usually more powerful and can cook food faster. In comparison, smaller models may be easier to store. Look for features such as temperature settings, timer functions, and ease of cleaning.
See our recommended air fryer here.
Tongs
Essential for safely flipping the fish in the hot air fryer without damaging it or burning hands! Select tongs with long handles and heat-resistant grips to handle high temperatures during cooking.
Also, look for a locking mechanism to keep them shut while not in use. See our recommendation here.
Basting Brush
Used to brush oil onto the fish before putting it into the air fryer – this will help ensure even flavor throughout every bite of your barramundi! Choose a basting brush with good bristles that won't shed easily and is easy to clean after each use.
See also: How To Cook Basa Fish In Air Fryer?
Storage Tips For The Leftover Air Fryer Barramundi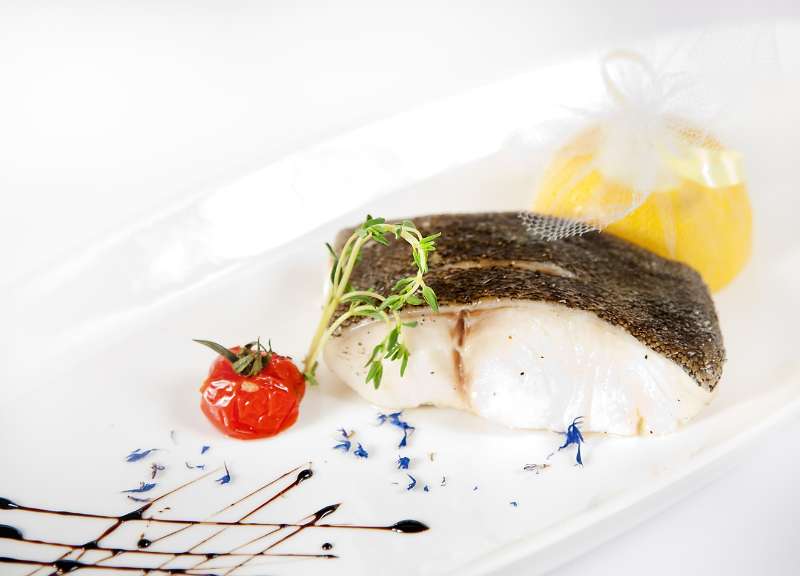 The best way to store leftover air fryer barramundi is by wrapping it tightly in plastic wrap or aluminum foil and placing it in the refrigerator. This will help keep the fish from drying out, which can affect its taste and texture.
Refrigeration also prevents bacteria from forming on the fish, so it stays safe for consumption. Keeping your cooked barramundi refrigerated until you're ready to eat will ensure you enjoy a delicious meal every time!
Storing food properly is an important part of maintaining a healthy diet. Leftover cooked meals should always be stored properly to stay fresh and remain safe to consume.
Air Fryer Barramundi is no exception. Proper storage techniques are essential when dealing with this seafood dish.
Wrapping the fish tightly in either plastic wrap or aluminum foil before storing it in the refrigerator helps maintain flavor, texture, and overall quality while keeping bacteria at bay during storage periods up to four days after cooking.
Additionally, these steps can help prevent cross-contamination between food items that may occur if different foods are stored together without being wrapped separately first.
Properly storing leftovers ensures their safety and preserves their delicious flavors and textures far better than improper storage methods allow.
By following these easy tips for correctly storing leftover air fryer barramundi, you can rest assured knowing that your next meal will be as tasty as ever!
See also: How To Cook Frozen Basa Fillets In Air Fryer?
How To Preheat The Frozen Barramundi In The Air Fryer?
The best way to preheat a frozen barramundi in the air fryer is to set it at 390°F for about 10 minutes. This will help ensure that your fish is cooked through and evenly heated.
You should also lightly spray or brush the barramundi with oil before placing it in the air fryer, as this will help create a nice crispy texture outside of your fish.
When preheating frozen barramundi in an air fryer, it's important not to overcrowd the basket or tray so that heat can be circulated properly and reach every part of each piece of fish.
Additionally, you may want to shake up or flip over your pieces halfway through the cooking time so they cook evenly on both sides without burning. 
Preheating a frozen barramundi in an air fryer ensures even heating throughout each piece, which helps prevent undercooking some sections while overcooking others.
It also creates a delicious crispiness on the outside without having to deep-fry it as traditional methods would require. By following these instructions correctly, you'll achieve perfect results every time!
Frequently Asked Questions
What Temp Should Barramundi Be Cooked To?
Barramundi should be cooked to an internal temperature of 145°F (63°C).
Are Air Fryers Good For Cooking Barramundi Fish?
Yes, air fryers are a great way to cook Barramundi fish. The air fryer's high heat helps quickly and evenly cook the fish while keeping it moist and flavorful.
Does Cooking Barramundi Fish In Air Fryer Make It Smell?
Yes, cooking Barramundi fish in an air fryer can make it smell. To reduce the smell, you can season the fish with herbs and spices before cooking or use a non-stick spray to prevent sticking.
How Do You Keep Fish From Sticking To The Air Fryer?
To prevent fish from sticking to the air fryer, coat it with a thin layer of oil before cooking and ensure the fish is completely dry before adding it to the basket.
Additionally, you can use parchment paper or aluminum foil in the basket for an extra layer of protection.
Do You Use Cooking Spray To Cook Barramundi In Air Fryer?
Yes, you can use cooking spray for cooking Barramundi in an air fryer. Lightly coat the fish with oil or cooking spray before placing it in the air fryer basket.
Conclusion
Cooking barramundi in an air fryer is a great way to make a delicious, healthy meal. It's quick, easy, and requires very little cleanup afterward.
Not only that, but the fish will stay juicy and flavorful due to the air circulation provided by the machine.
Plus, you can ensure your meal is cooked evenly without any added oil or fat. So if you're looking for a nutritious dinner, try cooking barramundi in an air fryer! 
Bon appetit!
Last update on 2023-09-22 / Affiliate links / Images from Amazon Product Advertising API