Are you looking to learn how to cook bacon-wrapped shrimp in an air fryer? You're in the right place!
With just a few simple steps, you can make delicious bacon-wrapped shrimp without all the mess of frying.
This article will show you exactly how to do it!
How To Cook Bacon-Wrapped Shrimp In An Air Fryer?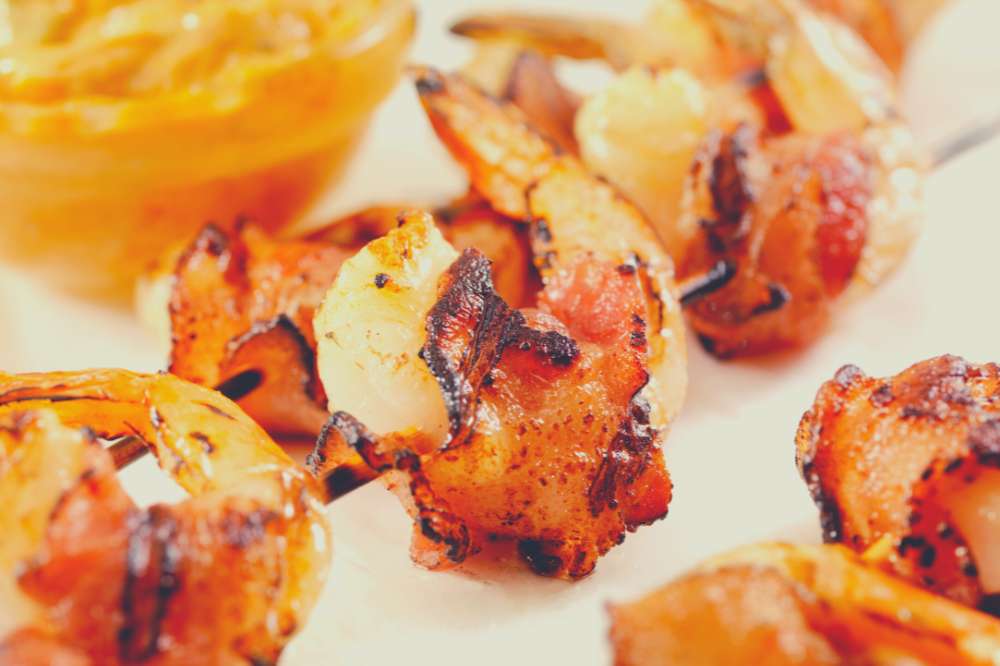 Ingredients To Make Bacon-Wrapped Shrimp
These are the ingredients needed to make bacon-wrapped shrimp in the air fryer:
Shrimp (about 16-18 large shrimp, peeled and deveined)
Bacon (8 slices, cut into halves)
Toothpicks
Butter (1 tablespoon melted butter or olive oil)
Garlic powder
Cayenne pepper
See also: How To Cook Bacon Wrapped Scallops In Air Fryer?
Instructions To Prepare The Bacon-Wrapped Shrimp
Peel and devein the shrimp. Rinse them with cold water and pat dry with paper towels. Set aside.
Cut each bacon slice in half lengthwise so that you have 16 small pieces of bacon to wrap around each piece of shrimp.
Secure each wrapped piece of shrimp with a toothpick at both ends to keep it together while cooking in the air fryer basket later.
When transferring them to the air fryer basket, place all wrapped pieces onto a tray or plate for easy handling.
Mix melted butter/olive oil, garlic powder, and cayenne pepper in a separate bowl until well combined before brushing over each bacon-wrapped shrimp lightly for extra flavor before air frying!
Air Fryer Bacon Wrapped Shrimp
COSORI Air Fryer (Check Price On Amazon)
Now it's time for cooking! Take the ingredients you have prepared before and follow this straightforward instruction for cooking delicious bacon-wrapped shrimp in your air fryer.
Preheat your air fryer to 400°F (200°C) for about 5 minutes.
Place the bacon-wrapped shrimp in a single layer into the preheated air fryer basket and set the timer for 6 minutes at 400°F (200°C).
Halfway through cooking, open the air fryer basket and gently turn each piece of shrimp over using tongs or a spatula.
Once the timer is done, open the air fryer basket to check if the bacon is cooked and slightly crispy before serving!
See also: How To Cook Bbq Chicken In An Air Fryer?
What To Serve With Air Fryer Bacon Wrapped Shrimp?
There are many ways to serve your bacon-wrapped shrimp. There is no right or wrong. Everyone has different tastes. The suggestion below is what we recommend.
Roasted potatoes: For a crunchy side, serve with roasted potatoes like sweet potato wedges or russet potatoes.
Grilled vegetables: Grill seasonal vegetables such as bell peppers, zucchini, and mushrooms for a healthy accompaniment to your bacon-wrapped shrimp.
Fresh fruit salad: Make a fresh fruit salad of berries, mangoes, kiwi, and pineapple to balance out the savory flavors of the shrimp.
Quinoa pilaf: Prepare quinoa in an aromatic pilaf featuring herbs such as parsley and cilantro alongside diced carrots and celery for a flavorful side dish.
Recommended Tools To Make Air Fryer Bacon Wrapped Shrimp
Air Fryer
Look for an air fryer with adjustable temperature settings, a timer, and digital controls. Ensure the basket size is big enough to fit your food without overcrowding.
Consider buying one with additional accessories like skewers or rotisserie baskets. (See our recommendation)
Tongs
Buy heat-resistant tongs made from stainless steel with non-slip handles for easy grip and control when handling hot food items.
Basting Brush
Choose a brush made from silicone, as this will ensure durability, flexibility, and heat resistance when cooking meat dishes at high temperatures in the air fryer.
Skewers
Find quality skewer sets with multiple sticks to cook multiple pieces of food while avoiding overcrowding inside the air fryer's basket or tray area.
See also: How To Cook Bbq Pork Chops In An Air Fryer?
Storage Tips For The Leftover Air Fryer Bacon Wrapped Shrimp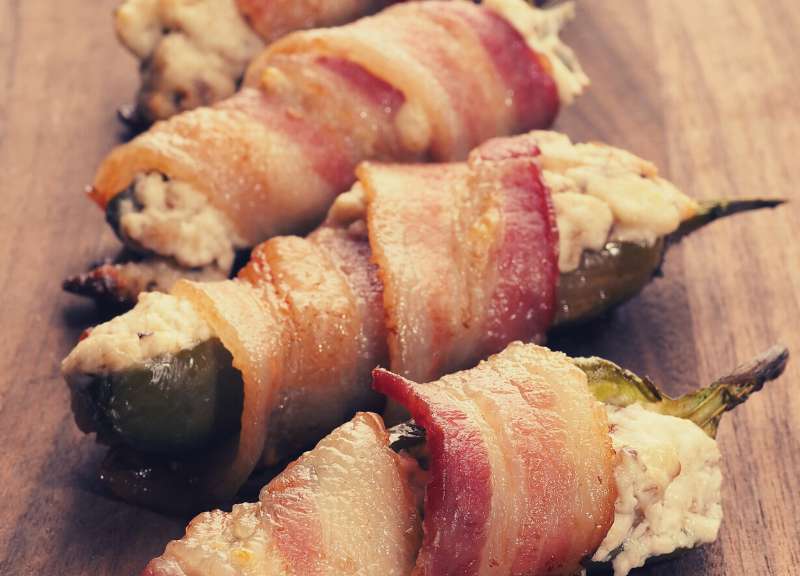 The best way to store leftover air fryer bacon-wrapped shrimp is to let it cool completely, then place it in an airtight container and store it in the refrigerator for up to three days.
To maximize freshness, you should wrap the shrimp tightly with plastic wrap or aluminum foil before storing it. This will help lock in flavor and moisture while preventing bacteria from growing.
Additionally, if you plan on freezing your leftovers, ensure they are properly sealed, so they do not get freezer burned or become too dry when thawed.
Doing this will ensure you have a delicious meal ready whenever you need some quick protein!
See also: How To Cook Bbq Ribs In An Air Fryer?
How To Preheat The Frozen Bacon Wrapped Shrimp In The Air Fryer?
The best way to preheat the frozen bacon-wrapped shrimp in an air fryer is to set it at 400°F for 5-7 minutes. This will give you a nice, even heat to cook your shrimp without burning them.
Preheating helps ensure the food cooks evenly and quickly while retaining its flavor and texture.
The intense heat generated by the air fryer can also help reduce cooking time and ensure all ingredients are cooked through properly.
Additionally, preheating can help prevent sticking, which could lead to unevenly cooked foods or messes in your kitchen!
Frequently Asked Questions
What Kind Of Bacon Should I Use To Wrap The Shrimp?
For wrapping shrimp, it is best to use thin-sliced bacon. This will ensure that the bacon cooks quickly and evenly around the shrimp.
Can I Substitute Air Frying For Baking Or Grilling The Bacon-Wrapped Shrimp?
You can substitute air frying for baking or grilling the bacon-wrapped shrimp. Air frying is a healthier alternative to traditional cooking methods and will yield delicious results.
How Do You Make Sure The Bacon Is Cooked Through But Not Too Crispy?
The best way to ensure that the bacon is cooked through but not too crispy is to cook it on medium-low heat. Start by heating a skillet over medium-low heat, then add the bacon strips. 
Cook for about 5 minutes, occasionally flipping, until the bacon is golden brown and crisp. Remove from the pan immediately, so it doesn't overcook and become too crispy.
Do I Need To Season The Shrimp Before Wrapping It In Bacon?
Yes, it is recommended to season the shrimp before wrapping it in bacon.
How Can I Prevent Soggy Bacon From Forming On My Wrapped Shrimp?
To prevent soggy bacon from forming on your wrapped shrimp, cook the bacon until it is crisp before wrapping it around the shrimp.
Additionally, you can brush a light layer of oil over the top of the bacon and bake or broil it for a few minutes to help keep it crispy.
Conclusion
Air fryer bacon-wrapped shrimp is a great way to enjoy a delicious appetizer or entree without worrying about unhealthy frying methods.
Not only are they easy and quick to make, but they also look amazing when served. The combination of crispy bacon with succulent, juicy shrimp will have everyone reaching for seconds!
Enjoy this tasty dish as part of your next meal; you won't be disappointed.
It's sure to impress all your guests.