Are you looking to learn how to cook bbq chicken in an air fryer? You're in the right place! Air fryers are a great way to make delicious and juicy bbq chicken.
You can enjoy some of the most flavorful bbq chicken with the right ingredients and a few simple steps.
This article will provide step-by-step instructions for making mouthwatering bbq chicken in an air fryer.
Whether a cooking novice or an experienced chef, you'll find all the tips and tricks to master this tasty dish!
Let's get started!
Ingredients Needed To Make Bbq Chicken In The Air Fryer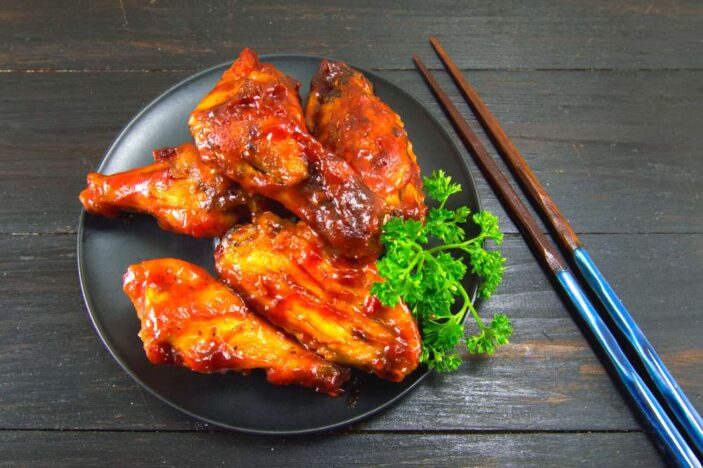 Before you start cooking the Bbq Chicken, here are some ingredients you can prepare to ensure smooth and efficient cook.
Four boneless skinless chicken breasts
1/4 cup olive oil
Two teaspoons of garlic powder
Two teaspoons of smoked paprika
One teaspoon of chili powder
One teaspoon of dried oregano
One teaspoon of onion powder
Salt and pepper to taste
Selecting The Right chicken For Cooking Bbq Chicken In The Air Fryer
A boneless, skinless chicken breast is the best for cooking BBQ chicken in an air fryer.
This type of chicken has the ideal texture and flavor for making delicious BBQ chicken. The absence of bones and skin helps ensure even heating throughout the meat without any burned or undercooked spots.
Furthermore, since it's relatively lean, less fat can drip into the bottom of your air fryer and cause smoke.
Additionally, boneless, skinless breasts allow you to season them with your favorite spices before cooking for added flavor.
See also: How To Cook Bacon Wrapped Shrimp In Air Fryer?
How To Prepare The Chicken Before Cooking In The Air Fryer?
To prepare the chicken before cooking it in an air fryer, combine the olive oil, garlic powder, smoked paprika, chili powder, dried oregano, onion powder, and salt and pepper in a bowl.
Rub the mixture onto both sides of each chicken breast. Place the chicken breasts into the air fryer basket.
How To Cook Bbq Chicken In An Air Fryer?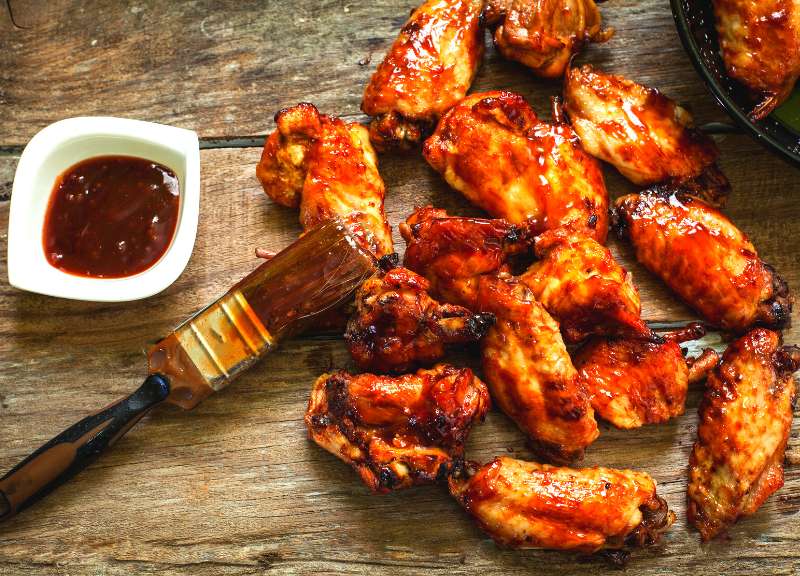 Here is the step-by-step how to make Bbq Chicken in the air fryer:
Preheat the air fryer to 400°F for about 5 minutes.
Place the chicken breasts into the pre-heated air fryer basket, ensuring they are not overlapping or touching each other.
Cook for 10 minutes at 400°F. After 10 minutes, carefully flip over each breast and cook for another 8-10 minutes until golden brown and cooked through (internal temperature should be 165°F).
Checking the doneness of your chicken is essential. Use a meat thermometer to check that it has reached an internal temperature of 165°F before serving.
Enjoy!
See also: How To Cook Bbq Pork Chops In An Air Fryer?
What You Need For Air Fryer Bbq Chicken
COSORI Air Fryer (Check Price On Amazon)
If you are looking for a reliable and efficient air fryer to cook this recipe, look no further than the COSORI Air Fryer. This 5-quart model utilizes 360° rapid heat circulation technology to cook your food evenly within minutes.
It also features nine one-touch cooking functions on a tempered glass display that is easy to use and programmable so you can set the desired time and temperature for perfect results every time.
Additionally, all its components are dishwasher safe, making clean-up quick and easy. With COSORI Air Fryer, you can make delicious BBQ chicken without fuss!
What To Serve With Bbq Chicken?
There are many ways to serve your Bbq Chicken. There is no right or wrong. Everyone has different tastes. The suggestion below is what I recommend.
Mashed Potatoes: This classic side dish goes great with BBQ pork chops, and you can add some extra flavor to the mashed potatoes by adding a bit of butter, garlic powder, or even shredded cheese on top!
Roasted Vegetables: For a light yet flavorful accompaniment to your BBQ pork chops, roast vegetables like carrots, onions, bell peppers, and zucchini. Drizzle them with olive oil and season with salt and pepper before baking in the oven at 400F for 15-20 minutes until tender.
Grilled Corn On The Cob: Nothing beats grilled corn on the cob regarding summertime sides! Slather each ear of corn generously with butter or mayo before wrapping in foil and grilling for 10 minutes over medium heat until cooked through. (Do you know you can steam corn on the cob in a steamer?)
Baked Beans: A tasty side that pairs perfectly with bbq pork chops is baked beans! Use canned beans if you're short on time (drain them first), or whip up your own from scratch using bacon grease and smoked paprika for extra flavor.
Salad Greens & Fruit Salad: Balance your meal by serving greens such as romaine lettuce or baby kale alongside some fresh fruit salad made from apples, oranges, strawberries, and blueberries: yum!
See also: How To Cook Bbq Ribs In An Air Fryer?
How To Store And Preheat The Leftover Bbq Chicken With The Air Fryer Method
If you have leftover Bbq Chicken, do not thrash them away. You can still store and reheat them again in the air fryer for your next mealtime. Here are the simple tips you can follow:
Storage Tips For the Leftover Bbq Chicken
If you want a great way to store leftover BBQ chicken, the best option is to use an air-tight container. This will help keep it fresh and prevent bacteria from growing.
Food Storage Containers (See on Amazon)
Additionally, ensure your container is placed in the refrigerator as soon as possible after cooking.
You can also freeze the leftovers if you don't eat them immediately. To do this correctly, place the chicken in a freezer-safe bag or container and put it in the coldest part of your freezer.
Lastly, properly put frozen chicken in a microwave or bowl with warm water when thawing out frozen chicken!
See also: How To Cook Bbq Wings In An Air Fryer?
How To Reheat The Leftover Bbq Chicken In The Air Fryer?
Reheating leftover BBQ chicken in an air fryer is a breeze.
Simply place the sliced or shredded chicken pieces in the basket.
Set the temperature to 350°F and cook for about 10 minutes.
You can also spritz some oil over it during cooking if desired.
The result? Crispy and delicious fried chicken that tastes even better than when you first cooked it!
Frequently Asked Questions
Can You Cook Bbq Chicken In An Air Fryer Without Foil?
Yes, you can cook BBQ chicken in an air fryer without foil. However, a non-stick cooking spray or oil is recommended to ensure the chicken does not stick to the basket and cooks evenly.
What Cooking Sprays To Use In The Air Fryer?
An oil spray with a high smoke point, such as canola or avocado, is recommended. Olive oil and coconut oil are also good options.
Avoid using butter-flavored sprays, which may contain dairy products that can burn in the air fryer.
Is It Necessary To Turn The Chicken During Cooking?
Yes, turning the chicken during cooking is necessary to ensure even cooking and prevent burning.
Can You Cook BBQ Sauce On Raw Chicken In An Air Fryer?
You can cook BBQ sauce on raw chicken in an air fryer. However, check the instructions for your specific air fryer model, as cooking times may vary.
Are There Any Tips For Ensuring The BBQ Chicken Is Crispy And Juicy?
Yes, there are several tips for ensuring that BBQ chicken is crispy and juicy. First, make sure to preheat the grill before adding the chicken. This will help create a nice sear on the outside of the chicken while keeping it moist and juicy inside. 
Second, brush oil onto both sides of the chicken before grilling to prevent sticking and add flavor. Third, cook over medium-high heat until an internal temperature of 165°F is reached to ensure it is cooked without drying out or burning. 
Finally, let the chicken rest for 5 minutes after cooking so all its juices can redistribute throughout before serving.
Conclusion
If you're ready for a delicious dinner, why not make bbq chicken in an air fryer? With the help of this article, you'll have all the information needed to make your savory and juicy dish.
You needn't be a master chef to whip up this tasty treat. Follow these simple steps and soon enjoy some mouthwatering bbq chicken!
So what are you waiting for?
Get cooking and enjoy!