Are you looking to learn how to cook bbq chicken tenders in an air fryer? You're in the right place! You can quickly whip up delicious bbq chicken tenders with simple ingredients and a trusty air fryer.
Whether you're looking for an easy weeknight dinner or an impressive dish to serve at your next gathering, this recipe covers you.
Read on to learn how to make juicy, flavorful bbq chicken tenders with the perfect crunch!
Ingredients Needed To Make Bbq Chicken Tenders In The Air Fryer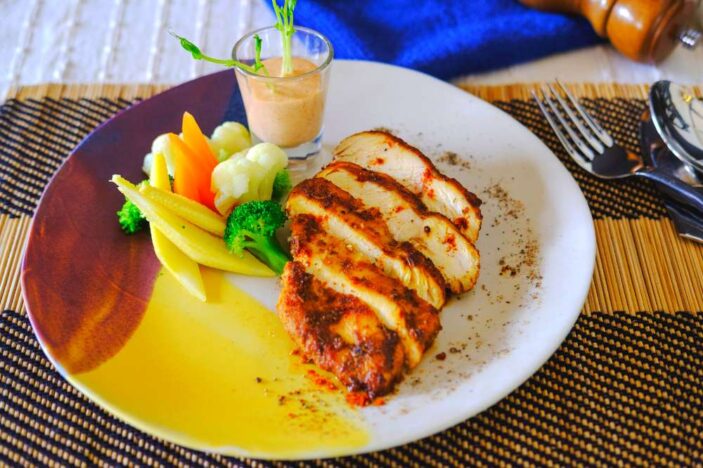 Before you start cooking the Bbq Chicken Tenders, here are some ingredients you can prepare to ensure smooth and efficient cook.
Chicken Tenders
BBQ Sauce
Olive Oil
Garlic Powder
Onion Powder
Salt & Pepper
Selecting The Right Chicken Tenders For Cooking Bbq Chicken Tenders In The Air Fryer
The best chicken tenders for cooking BBQ chicken tenders in the air fryer are boneless, skinless chicken breasts.
Chicken breast is low in fat and provides a great source of lean protein. It also has a mild flavor that makes it perfect to pair with any sauce or seasoning you want to use when making your BBQ chicken tenders.
Cut the chicken into even-sized strips before adding them to the air fryer basket to ensure your result is tender and juicy.
This will help them cook evenly and prevent some pieces from drying out faster than others. Additionally, ensure you season the strips generously before cooking for added flavor!
See also: How To Cook Bbq Chicken Drumsticks In An Air Fryer?
How To Prepare The Chicken Tenders Before Cooking In The Air Fryer?
To prepare the chicken tenders in an air fryer before cooking them, combine the BBQ sauce, olive oil, garlic powder, onion powder, and salt & pepper in a bowl. Mix until all ingredients are evenly distributed.
Place the chicken tenders into the mixture and coat them completely. Allow marinating for at least 30 minutes before cooking in an air fryer.
How To Cook Bbq Chicken Tenders In An Air Fryer?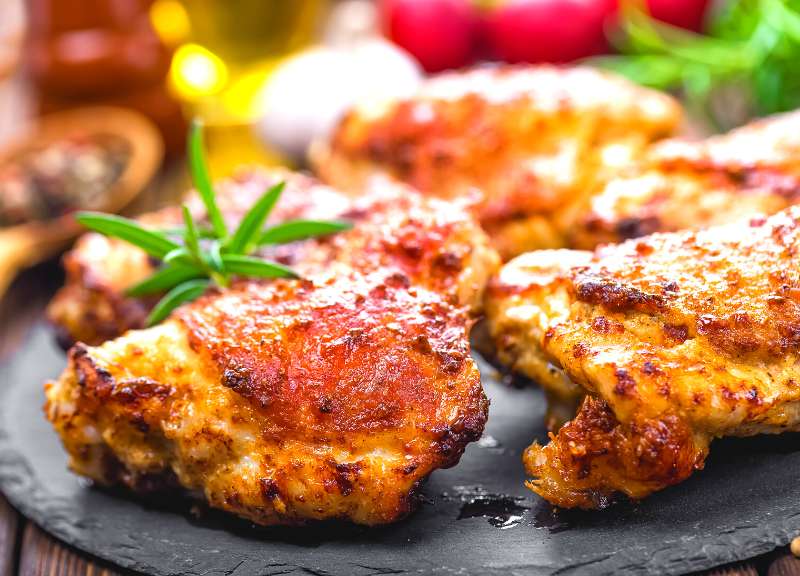 Here is the step-by-step how to make Bbq Chicken Tenders in the air fryer:
Preheat the air fryer to 375°F (190°C).
Place the chicken tenders in the air fryer basket and spread them out evenly, making sure that none of them overlap each other.
Cook for 8 minutes at 375°F (190°C).
Flip over the chicken tenders and cook for 7 minutes at 375°F (190°C).
Check if they're cooked through by cutting into one with a sharp knife or use a meat thermometer to check if it has reached an internal temperature of 165 °F (74 °C) before serving hot!
Enjoy!
See also: How To Cook Bbq Chicken Breast In An Air Fryer?
What You Need For Air Fryer Bbq Chicken Tenders
COSORI Air Fryer (Check Price On Amazon)
If you're looking for a delicious and easy way to make BBQ chicken tenders, I highly recommend using the COSORI Air Fryer. This amazing device features 5 quarts of cooking space with manual control to get your desired results.
Additionally, it is dishwasher safe and has programmable settings for convenience. It also uses 360° rapid heat circulation technology that cooks your food quickly and evenly!
Finally, this air fryer has nine one-touch cooking functions on its tempered glass display, making prep time easier.
What To Serve With Bbq Chicken Tenders?
There are many ways to serve your Bbq Chicken Tenders. There is no right or wrong. Everyone has different tastes. The suggestion below is what I recommend.
Creamy Potato Salad: Potatoes, mayonnaise, chives, celery, and spicy mustard make this classic side dish the perfect accompaniment to BBQ chicken breasts.
Grilled Corn on the Cob: Throw some ears of corn over the grill while cooking your chicken, and enjoy one of the summer's favorite sides with your meal!
Baked Beans: A great way to add extra flavor and texture to your plate – top off a scoop of beans with a sprinkle of diced red onion for an extra kick!
Coleslaw: Cool cabbage combined with tangy vinegar dressing makes this traditional side dish as delicious as it is easy to prepare!
Roasted Vegetables: Make sure you have enough veggies on hand by tossing roasted squash, carrots, or peppers together for a flavorful addition to any meal!
Caesar Salad: Crisp romaine lettuce gets dressed in creamy Caesar dressing before being topped off with crunchy croutons. Yum!
Fruit Salad: SIeten your meal by serving a bowl of cubed watermelon, pineapple chunks, and berries. It's like dessert but healthier too!
See also: How To Cook Bbq Country Style Ribs In An Air Fryer?
How To Store And Preheat The Leftover Bbq Chicken Tenders With The Air Fryer Method
If you have leftover Bbq Chicken Tenders, do not thrash them away. You can still store and reheat them again in the air fryer for your next mealtime. Here is the simple tips you can follow:
Storage Tips For the Leftover Bbq Chicken Tenders
Food Storage Containers (See on Amazon)
Leftover BBQ chicken tenders can easily be stored for later use. Remove any excess fat from the chicken and cool it in an airtight container before placing it into your refrigerator or freezer to ensure the best results.
For added protection, you may also want to wrap each piece of chicken individually with plastic wrap to help keep them fresh longer.
When ready to serve, thaw out the desired amount of tenders and heat them over a medium-high flame until they are cooked. Enjoy!
How To Reheat The Leftover Bbq Chicken Tenders In The Air Fryer?
Reheating leftover BBQ chicken tenders in an air fryer is quite simple.
Start by pre-heating the air fryer to 375°F or 190°C.
Then place your leftovers inside for about 5 minutes.
After that, reduce the temperature to 350°F or 175°C.
Spray some oil on top of the tenders.
Cook them for another 3-5 minutes until they are crispy again.
Enjoy!
See also: How To Cook Korean Bbq In An Air Fryer?
Frequently Asked Questions
What Temperature To Cook Chicken Tenders?
Chicken tenders should be cooked to an internal temperature of 165°F (74°C).
Which Oil To Use For Air Fryer?
Using an oil with a high smoke point, such as avocado, canola, or peanut oil, is recommended.
How Long Does It Take To Cook BBQ Chicken Tenders?
BBQ chicken tenders typically take 10-15 minutes to cook in an oven preheated to 375°F.
Can You Reheat Leftover Chicken Tenders In An Air Fryer?
Yes, you can reheat leftover chicken tenders in an air fryer. To do so, preheat the air fryer to 350°F and place the chicken tenders in the basket. Cook for 5-7 minutes or until heated through.
How To Know If My Chicken Tenders Are Cooked?
Chicken tenders should be cooked until they reach an internal temperature of 165°F. To check the temperature, insert a food thermometer into the thickest part of the tender and wait for it to read 165°F.
Conclusion
You can make crunchy, flavor-packed bbq chicken tenders with your trusty air fryer! With just a few simple ingredients and a little patience, you can whip up this delicious dish in no time.
So grab your air fryer and get cooking. Your family is sure to love it!
Happy cooking!