Are you looking to learn how to cook bbq chicken drumsticks in an air fryer? You're in the right place!
We've got all the tips, tricks, and techniques you need to make your air fryer chicken drumsticks just like a pro.
So grab an apron and get ready.
Let's fire up that air fryer!
Ingredients Needed To Make Bbq Chicken Drumsticks In The Air Fryer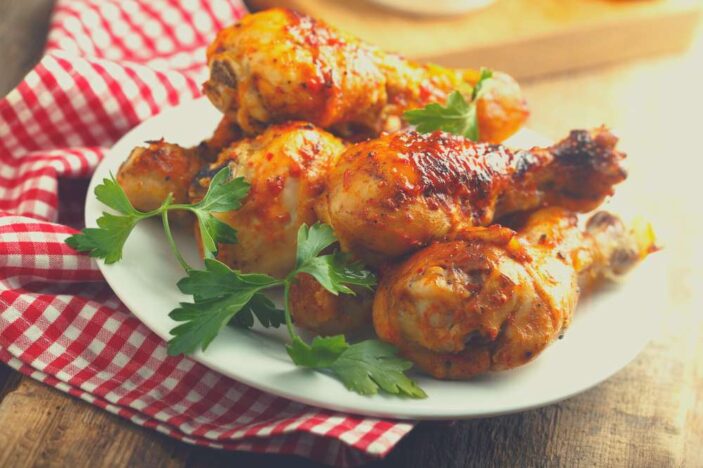 Before you start cooking the Bbq Chicken Drumsticks, here are some ingredients you can prepare to ensure smooth and efficient cook.
Chicken drumsticks
BBQ sauce
Salt
Garlic powder
Black pepper
Selecting The Right Chicken Drumsticks For Cooking Bbq Chicken Drumsticks In The Air Fryer
The best way to ensure your BBQ chicken drumsticks turn out perfectly when cooked in the air fryer is by selecting the right ones.
Look for plump drumsticks with a visible and distinct layer of fat between their skin and meat. This fat helps keep the moisture locked in during cooking, resulting in juicy and succulent drumsticks.
Additionally, you should select fresh chicken pieces stored properly at supermarkets or grocery stores.
Avoid frozen or pre-cooked products as they will not produce as good results as freshly bought chicken parts.
With these tips in mind, you can be certain your delicious BBQ chicken drumsticks will come out perfect!
See also: How To Cook Bbq Pork In An Air Fryer?
How To Prepare The Chicken Drumsticks Before Cooking In The Air Fryer?
To prepare the chicken drumsticks before cooking them in an air fryer, mix BBQ sauce, salt, garlic powder, and black pepper. Coat each drumstick with the mixture and place them in the air fryer basket.
How To Cook Bbq Chicken Drumsticks In An Air Fryer?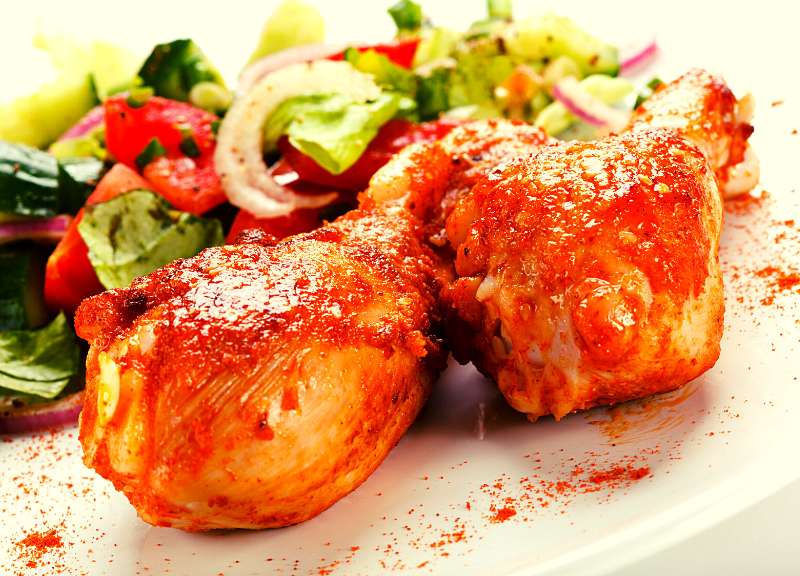 Here is the step-by-step how to make Bbq Chicken Drumsticks in the air fryer:
Preheat your air fryer to 375°F for about 3 minutes before adding the chick drumsticks.
Place the chicken in a single layer in the basket and cook at 375°F for 15 minutes.
After 15 minutes, carefully flip each drumstick with tongs so they cook evenly on both sides, and cook for an additional 10-15 minutes or until cooked through (internal temperature should be 165°F).
Once done, remove from the air fryer basket and let cool slightly before serving!
What You Need For Air Fryer Bbq Chicken Drumsticks
COSORI Air Fryer (Check Price On Amazon)
Cooking with the COSORI Air Fryer is a breeze! You can easily prepare delicious meals with its 5-quart capacity, nine one-touch cooking functions, and programmable temperate glass display.
The 360° rapid heat circulation technology ensures even cooking so that every bite of your BBQ chicken drumsticks will be perfectly cooked.
Plus, the manual controls allow you to customize the temperature and time settings while keeping peace of mind knowing it's safe since all parts are dishwasher safe for easy cleanup.
So if you're looking for an efficient way to cook up some BBQ chicken drumsticks at home, then this is what I recommend.
See also: How To Cook Bbq Chicken Tenders In An Air Fryer?
What To Serve With Bbq Chicken Drumsticks?
There are many ways to serve your Bbq Chicken Drumsticks. There is no right or wrong. Everyone has different tastes. The suggestion below is what I recommend.
Roasted Potatoes: Cut potatoes into cubes, drizzle with olive oil and your favorite herbs, then roast in a hot oven until golden brown. Serve alongside the BBQ chicken tenders for an easy side dish.
Grilled Vegetables: Slice up some zucchini, mushrooms, bell peppers, or other vegetables of choice, toss them in olive oil and seasonings, and grill them on the same grates as the chicken tenders to make a delicious veggie side dish!
Baked Beans: Make a slow cooker baked beans recipe to go perfectly with your BBQ chicken tenders. Simply mix canned beans, ketchup, brown sugar, and spices; simmer it all day for an amazing flavor combination!
Cornbread Muffins: Whip up a batch of cornbread muffins from scratch or buy pre-made ones at the store; they're perfect for soaking up all that delicious barbecue sauce from your entree!
Coleslaw: Make a classic coleslaw by combining shredded cabbage, carrots, and mayo with vinegar or lemon juice (or both!) You can also add diced apples to give it extra crunchiness if you like!
See also: How To Cook Bbq Chicken Breast In An Air Fryer?
How To Store And Preheat The Leftover Bbq Chicken Drumsticks With The Air Fryer Method
If you have leftover Bbq Chicken Drumsticks, do not thrash them away. You can still store and reheat them again in the air fryer for your next mealtime. Here are the simple tips you can follow:
Storage Tips For the Leftover Bbq Chicken Drumsticks
Food Storage Containers (See on Amazon)
Leftover BBQ chicken drumsticks are a delicious treat, but they can easily go bad if you don't store them properly. To keep your leftover chicken fresh and tasty, it's important to follow these storage tips:
First, ensure your chicken is cool before storing it in the refrigerator or freezer. Second, wrap the drumsticks individually in plastic or aluminum foil to help prevent air from entering and spoiling the meat.
Third, place each wrapped drumstick into an airtight container or sealable bag to protect against bacteria growth.
Finally, label each item with the date of purchase so you know how long it has been stored. You can enjoy those delicious BBQ leftovers for weeks with these simple steps!
How To Reheat The Leftover Bbq Chicken Drumsticks In The Air Fryer?
If you're looking for a way to quickly and easily reheat your leftover BBQ chicken drumsticks, the air fryer is ideal!
Start by preheating the air fryer to 375°F.
Place your drumsticks in the basket of the fryer.
Cook for 8-10 minutes. This will depend on how thick or thin they are cut, so watch them as they cook to ensure you don't overdo it.
Once heated through and crispy, remove from the air fryer and enjoy!
See also: How To Cook Bbq Country Style Ribs In An Air Fryer?
Frequently Asked Questions
What Temperature To Cook Drumsticks?
Drumsticks should be cooked to an internal temperature of 165°F (74°C).
How Long Does It Take To Cook Drumsticks?
Drumsticks typically take between 25 and 35 minutes to cook in the oven. The exact time will depend on the drumsticks' size and your oven's temperature.
What Ingredients are Needed for BBQ Chicken Drumsticks in an Air Fryer?
To make BBQ chicken drumsticks in an air fryer, you will need the following ingredients: 8-10 chicken drumsticks, 1/2 cup of your favorite barbecue sauce, two tablespoons olive oil, one teaspoon garlic powder, one teaspoon onion powder, and salt and pepper to taste.
Do I Need To Preheat The Air Fryer Before Cooking?
Yes, preheating the air fryer before cooking is recommended for the best results.
How To Know If My BBq Chicken Drumsticks Are Cooked?
To know if your BBQ chicken drumsticks are cooked, insert a meat thermometer into the thickest part of the drumstick. The internal temperature should be 165°F (74°C).
Conclusion
You don't have to be a professional chef to make delicious air fryer chicken drumsticks. With our tips and tricks, you can make them like a pro in no time!
So roll up your sleeves, get ready for some tasty treats, and let's fire up that air fryer!
Happy cooking!