Are you looking to learn how to cook baby broccoli in an air fryer? You're in the right place! Cooking baby broccoli in an air fryer is a delicious and healthy way to enjoy this nutrient-packed vegetable.
In this article, you'll learn how to make tasty baby broccoli with your air fryer. You won't believe how quick and easy it is!
Let's get into it!
How To Cook Baby Broccoli In An Air Fryer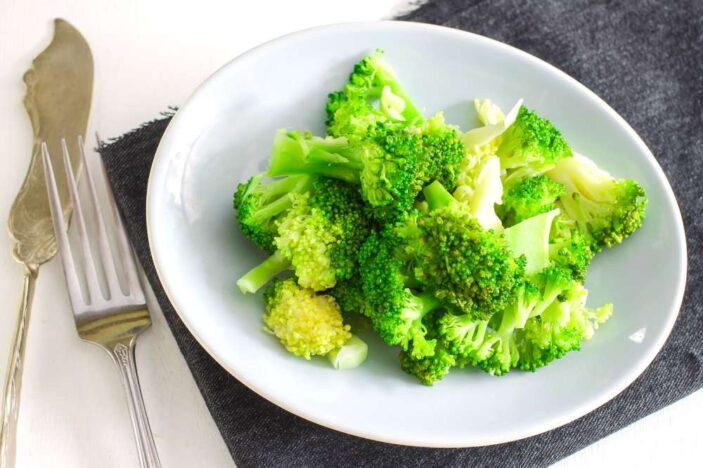 Ingredients To Make Baby Broccoli
These are the ingredients needed to make baby broccoli in the air fryer:
One head of baby broccoli
Three tablespoons olive oil
Salt and pepper to taste
Instructions To Prepare The Baby Broccoli
Rinse the baby broccoli with cold water to remove any dirt or debris.
Trim off any dry ends from the stems of the heads of baby broccoli, then cut each into smaller florets.
Place the prepared baby broccoli in a large bowl and drizzle with olive oil.
Sprinkle salt and pepper over the top, then toss everything together until it is evenly coated with oil and seasoning.
See also: How To Cook Baby Corn In Air Fryer?
Air Fryer Baby Broccoli
COSORI Air Fryer (Check Price On Amazon)
Now it's time for cooking! Take the ingredients you have prepared before and follow this straightforward instruction for cooking delicious baby broccoli in your air fryer.
Preheat the air fryer to 390°F.
Place the broccoli in a single layer into the air fryer basket, ensuring it is not overcrowded.
Cook for 8-10 minutes, shaking the basket every few minutes so everything cooks evenly and doesn't stick together or burn.
Check with a fork your baby broccoli is cooked through before removing it from the air fryer and serving it hot.
What To Serve With Air Fryer Baby Broccoli?
There are many ways to serve your baby broccoli. There is no right or wrong. Everyone has different tastes. The suggestion below is what we recommend.
Roasted Garlic Mashed Potatoes: Serve the air fryer baby broccoli alongside a creamy mashed potato infused with roasted garlic for a comforting side dish.
Balsamic Glazed Carrots: Balance out the nutty flavor of the air fryer baby broccoli by serving it with lightly glazed carrots cooked in balsamic vinegar and honey.
Grilled Salmon: For an elegant main course, serve grilled salmon with your air fryer baby broccoli on top for a delicious combination of flavors and textures.
Quinoa Pilaf: Add some protein to your meal by serving quinoa pilaf as a side dish instead of rice or potatoes. It pairs perfectly with the earthy taste of air-fried vegetables!
Spinach Salad: Create contrast in texture and color by pairing crunchy spinach salad with your soft-cooked air fryer baby broccoli. Add crumbled feta cheese for extra flavor!
See also: How To Cook Baby Bella Mushrooms In Air Fryer?
Recommended Tools To Make Air Fryer Baby Broccoli
Air Fryer
An air fryer is a great tool for cooking crispy and healthy meals. When choosing an air fryer, consider factors such as size, temperature range, wattage, ease of cleaning, accessories included with the unit, and safety features.
See our recommended air fryer here.
Tongs
A good set of tongs is essential for lifting food out of the air fryer without burning yourself or dropping it on the floor.
Look for tongs made from durable stainless steel with a heat-resistant handle to ensure they last through many uses in your kitchen.
Cutting Board
Invest in a cutting board that will help keep your workspace clean and organized when prepping ingredients for the meal you are about to cook in the air fryer.
Consider boards made from materials like bamboo or plastic, as these will resist warping over time due to their exposure to heat from hot pans/pots during cooking sessions.
See also: How To Cook Bacon Wrapped Asparagus In Air Fryer?
Storage Tips For The Leftover Air Fryer Baby Broccoli
Storing leftovers correctly helps maintain their flavor and ensures that all healthy nutrients are preserved.
Cooling hot food before transferring it into a storage container or bag is important so bacteria don't have time to grow on them. 
Food Storage Containers (See on Amazon)
Once cooled off, ensure the lid of the container fits tightly and store it away from other foods, such as meat or dairy products, so there won't be any cross-contamination issues.
If desired, add a few drops of olive oil over the broccoli's top before storing it, which may help preserve its moisture levels longer than usual.
Following these simple steps for correctly storing leftover air fryer baby Broccoli, you can enjoy its tasty flavors without worrying about spoilage or contamination issues!
See also: How To Cook Bacon Wrapped Hot Dogs In Air Fryer?
How To Preheat The Frozen Baby Broccoli In The Air Fryer?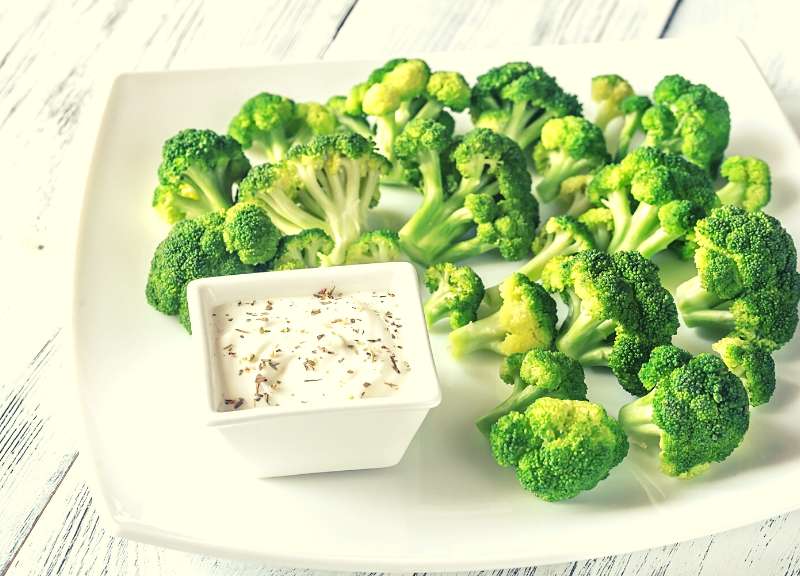 The best way to preheat frozen baby broccoli in an air fryer is to set the temperature at 350°F and cook for about 8 minutes.
This will ensure that your broccoli cooks evenly and crisply without burning. Toss the broccoli with olive oil before cooking for added flavor and crispiness to get the most out of your air fryer.
When using an air fryer, it's important to ensure that all pieces are roughly equal in size, so they cook evenly.
Place them in one layer on a single-level tray or basket. This helps improve circulation around each piece which helps achieve maximum crispness.
Preheating allows moisture within the food to heat up faster than if you just put cold food straight into your air fryer, resulting in more even cooking. Shake or turn over after 4 minutes so everything cooks evenly on both sides. 
Once cooked through and golden browned, take it from your air fryer, serve it with your favorite condiments & enjoy!
Frequently Asked Questions
Should I Pre-Cook The Baby Broccoli Before Putting It Into The Air Fryer?
Pre-cooking baby broccoli before putting it into the air fryer is recommended. This will help ensure that the broccoli cooks evenly and thoroughly.
How Long Does It Take To Cook Baby Broccoli In An Air Fryer?
Baby broccoli can be cooked in an air fryer for about 8-10 minutes at 400°F (204°C).
Can You Make Roasted Baby Broccoli Using An Air Fryer?
Yes, you can make roasted baby broccoli using an air fryer. Preheat the air fryer to 400°F and add the broccoli florets to a bowl with olive oil, salt, and pepper.
 
Toss until evenly coated, then spread out in a single layer in the air fryer basket. Cook for 8-10 minutes or until lightly browned and crispy.
Do I Need To Stir Or Shake The Basket During The Cooking Process For Even Results When Making Baby Broccoli With An Air Fryer?
Shaking the basket halfway through the cooking process is recommended for even results when making baby broccoli with an air fryer.
Does Cooking Baby Broccoli In An Air Fryer Require Any Oil Or Butter?
No, cooking baby broccoli in an air fryer requires no oil or butter.
Conclusion
Cooking baby broccoli in the air fryer is an easy and delicious way to have a healthy side dish with any meal.
The process only takes a few minutes, making it ideal for busy days when you don't want to spend too much time in the kitchen.
With its crunchy texture and slightly nutty flavor, this simple dish can be dressed up or down with your favorite seasonings and sauces.
Give this tasty recipe a try today. You won't regret it!