Are you looking to learn how to cook baby red potatoes in an air fryer? You're in the right place! Whether you are a beginner or an experienced cook, this guide will help you prepare delicious and crispy baby red potatoes in your air fryer.
We'll cover all the tips and tricks for making mouth-watering air-fried baby red potatoes, from seasoning to cooking time!
So get ready to learn how to make a crowd-pleasing side dish that will surely be a hit at your next gathering.
How To Cook Baby Red Potatoes In An Air Fryer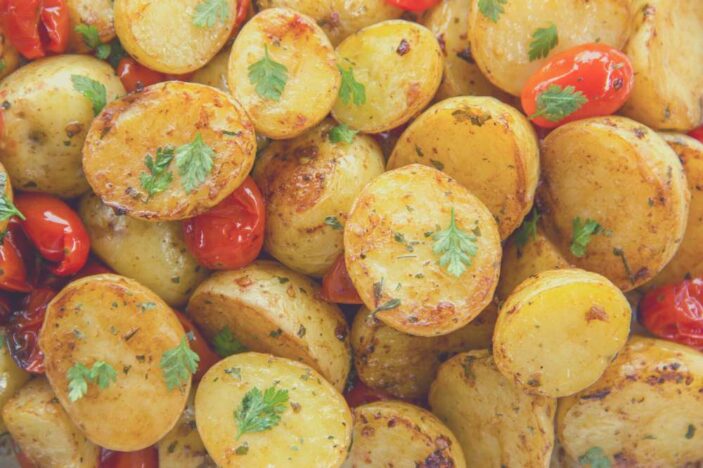 Ingredients To Make Baby Red Potatoes
These are the ingredients needed to make baby red potatoes in the air fryer:
Baby Red Potatoes
Olive Oil
Salt and Pepper
Fresh Herbs (optional)
Instructions To Prepare The Baby Red Potatoes
Wash the potatoes with cold water, scrubbing lightly to remove any dirt. Pat them dry with a paper towel.
Cut the potatoes into bite-sized pieces, leaving the skin on if desired.
Place the potato chunks in a bowl and toss with olive oil until evenly coated.
Sprinkle salt and pepper over the top, as well as fresh herbs if desired, and mix again to combine all seasonings.
See also: How To Cook Smoked Basa In Air Fryer?
Air Fryer Baby Red Potatoes
COSORI Air Fryer (Check Price On Amazon)
Now it's time for cooking! Take the ingredients you have prepared before and follow this straightforward instruction for cooking delicious baby red potatoes in your air fryer.
Preheat the air fryer to 400 degrees Fahrenheit.
Add the seasoned potatoes in a single layer to the air fryer basket, making sure not to overcrowd it.
Cook for 15-20 minutes, shaking halfway through cooking time, until golden brown and crispy outside.
Serve immediately while hot, and enjoy!
What To Serve With Air Fryer Baby Red Potatoes?
There are many ways to serve your baby red potatoes. There is no right or wrong. Everyone has different tastes. The suggestion below is what we recommend.
Serve the potatoes with a savory herb butter sauce. Simply combine melted butter, chopped fresh herbs (such as rosemary, thyme, and parsley), salt and pepper to taste, and a squeeze of lemon juice for an extra zing!
For added flavor, top the potatoes with a dollop of sour cream or plain Greek yogurt and some freshly chopped chives or scallions.
Turn them into an appetizer by serving them with crumbled feta cheese, sliced olives, diced tomatoes, and cucumber slices on top.
Add a little crunch. Try using crushed potato chips instead of breadcrumbs when air-frying these baby reds. They'll give the dish an amazing texture contrast that your family won't resist!
For something more substantial, serve these alongside roasted pork tenderloin or grilled salmon fillets. It would make for one delicious dinner plate!
See also: How To Cook Baby Gold Potatoes In Air Fryer?
Recommended Tools To Make Air Fryer Baby Red Potatoes
Air Fryer
An air fryer is a great tool for cooking baby red potatoes. It uses hot air to cook the potatoes quickly and evenly without adding fat or oil.
When selecting an air fryer, look for one with adjustable temperature settings and a timer to monitor the cooking process easily. Also, consider the size of the basket. Larger baskets can accommodate more potatoes at once.
See our recommended air fryer here.
Tongs
Tongs are essential for safely handling food items while in your kitchen. Look for tongs that have a long reach and are made from heat-resistant materials like stainless steel or silicone to ensure they won't melt when used near high temperatures.
Additionally, some tongs come with locking mechanisms which makes them easier to use when transferring food from pan to plate.
Storage Tips For The Leftover Air Fryer Baby Red Potatoes
The best way to store leftover air fryer baby red potatoes is to cool them completely, transfer them to an airtight container and refrigerate them.
Food Storage Containers (See on Amazon)
This will keep the potatoes fresh for up to four days. Additionally, you can freeze the potatoes in a freezer-safe bag or container for up to three months.
When storing leftovers like these air fryer baby red potatoes, you must allow them to cool before transferring them into containers or bags; this helps prevent food spoilage from bacteria growth.
Airtight containers are also important because they help maintain the potatoes' flavor, texture, and moisture while preventing cross-contamination with other foods stored in your fridge or freezer.
Furthermore, freezing is a great storage method as it prevents bacterial growth and significantly extends shelf life.
However, be sure that when thawing frozen items, you do so safely by placing them in the refrigerator overnight instead of at room temperature so as not to encourage bacteria growth again.
See also: How To Cook Baby Yellow Potatoes In Air Fryer?
How To Preheat The Frozen Baby Red Potatoes In The Air Fryer?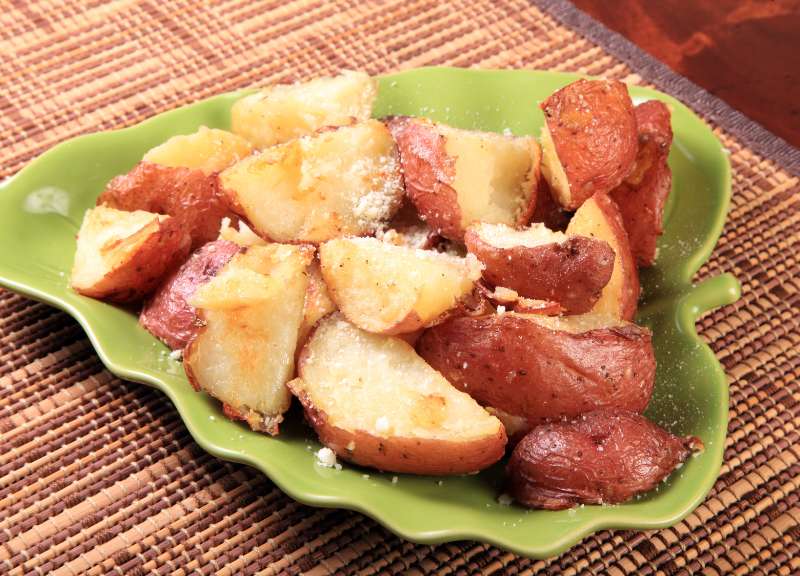 When preheating frozen baby red potatoes in an air fryer, it's important to ensure that you don't overcrowd the basket.
Overcrowding can cause uneven heating, leading to some parts of the potato undercooked while others get burned or overcooked.
It's also important not to overload the basket with too many ingredients at once, as this can affect airflow and prevent proper heat distribution throughout your food items.
Once you have placed the desired amount of frozen baby red potatoes in an air fryer, set it at 400°F and cook for 8-10 minutes until they are heated evenly throughout each piece.
Preheating your potatoes properly ensures that they are cooked perfectly every time without having any sections remain raw or burnt on one side only.
Additionally, preheating them in an air fryer instead of boiling them first saves precious cooking time and energy since less water needs to be used compared. Thus making this method more efficient and cost-effective overall!
See also: How To Cook Baby Corn In Air Fryer?
Frequently Asked Questions
Do I Need To Add Oil Or Butter When Cooking Baby Red Potatoes In An Air Fryer?
No, you do not need to add oil or butter when cooking baby red potatoes in an air fryer. The air fryer will circulate hot air around the potatoes and cook them without additional fat.
Is It Possible To Make Crispy Roasted Baby Red Potatoes In An Air Fryer?
It is possible to make crispy roasted baby red potatoes in an air fryer. The key is to cut the potatoes into small pieces and season them with oil, salt, and pepper before cooking.
Are There Any Special Tips Or Tricks For Cooking Baby Red Potatoes In An Air Fryer?
Yes, there are a few tips and tricks for cooking baby red potatoes in an air fryer. First, cut the potatoes into small pieces so they cook evenly. Second, preheat the air fryer before adding the potatoes to ensure they get crispy outside. 
Third, season them with salt and pepper or your favorite herbs and spices before cooking for added flavor. Finally, keep an eye on them while cooking, as air fryers can cook quickly!
What Size Of Baby Red Potatoes Should I Use For Air Frying?
Baby red potatoes should be cut into 1-inch cubes for air frying.
What Temperature And Time Should I Cook Baby Red Potatoes In An Air Fryer?
Baby red potatoes can be cooked in an air fryer at 400°F (204°C) for 15-20 minutes or until golden brown and crispy.
Conclusion
There you have it! A simple, delicious, nutritious way to cook baby red potatoes in the air fryer! It's an easy-to-follow recipe that will be a hit with your family.
Enjoying a tasty meal without spending hours in the kitchen takes little time.
With just a few steps and some fresh ingredients, you'll have perfectly cooked potatoes for any meal or as part of your favorite side dish.
Bon appetit!