Are you looking for tips on how to cook sweet potatoes in an air fryer? You're in the right place! In this article, we'll show you how to create a deliciously simple meal with minimal effort using an air fryer.
An air fryer is an excellent tool for cooking sweet potatoes quickly and efficiently. This step-by-step guide will show you how to make the perfect sweet potato in an air fryer.
You can enjoy tasty, cooked-to-perfection sweet potatoes every time with just a few simple steps.
Let's get started!
Preparing The Sweet Potatoes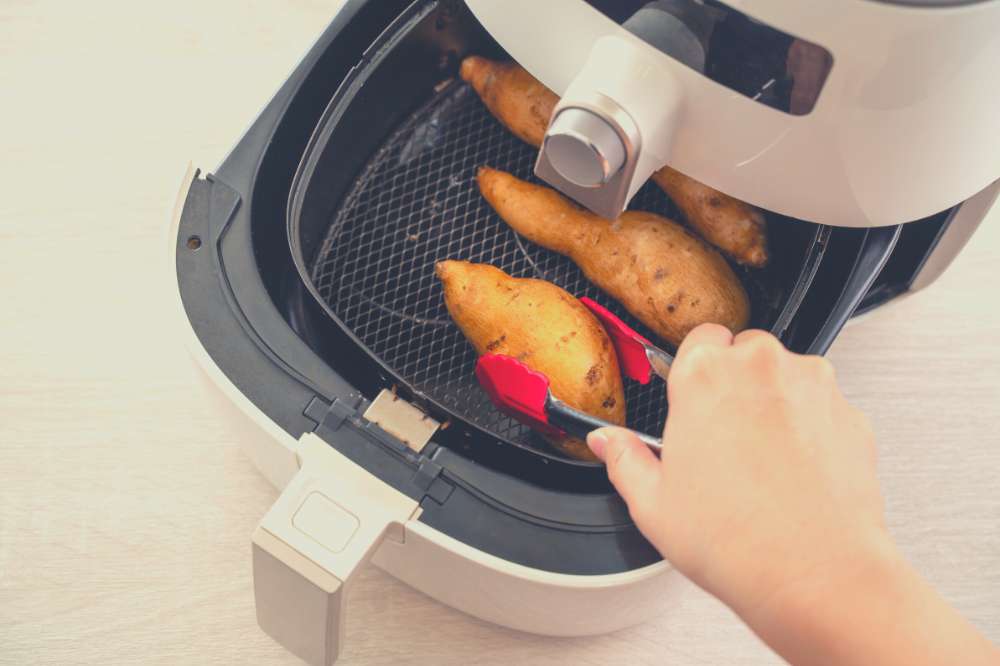 Ingredients
Sweet potatoes (1 to 2 whole sweet potatoes per person)
Instructions
The most important step when prepping your sweet potatoes for cooking is selecting the right type of potato.
Wash and scrub the sweet potatoes to remove any dirt or debris.
Peel the skin off each potato, then dice it into cubes or slices, depending on your preference.
Place the diced sweet potato in a bowl and toss with some olive oil, salt, pepper, garlic powder, smoked paprika, and other desired seasonings.
Spread out evenly on an aluminum foil-lined baking sheet for even cooking in the air fryer later.
See also: How To Cook A Baked Potato In Air Fryer?
How To Cook Sweet Potatoes In An Air Fryer
Air Fryer Settings
The perfect air fryer settings for sweet potatoes depending on the potato's size and personal preference.
Generally speaking, we recommend setting the temperature to 375°F/190°C and using a timer between 15-20 minutes, depending on how large your potatoes are.
Check on your potatoes periodically throughout cooking time to ensure they don't overcook or burn.
When done correctly, these crispy little spuds should be cooked through but still slightly firm in texture, not mushy or crunchy.
See also: How To Cook Burgers In Air Fryer?
Serving Suggestions
There are many ways to serve your sweet potatoes. There is no right or wrong. Everyone has different tastes. The suggestion below is what we recommend.
1. Sweet Potato Fries
Cut sweet potatoes into thin wedges, season with paprika and salt to taste, and cook in your air fryer until golden brown. Serve with ketchup or honey mustard dip for an extra tasty treat!
2. Sweet Potato Nachos
Slice two sweet potatoes into thin slices, and sprinkle them with olive oil, garlic powder, and chili powder before cooking in your air fryer until lightly crispy.
Top the nachos with black beans, diced tomatoes, jalapenos, and cheese for a delicious snack or appetizer!
3. Air Fryer Roasted Sweet Potatoes
Peel one large sweet potato, then cut it into cubes. Place the cubed potatoes in your air fryer basket and season them generously with cinnamon sugar.
Cook at 400°F for 15-20 minutes, depending on how soft you like them–they should be tender yet slightly crisp around the edges when done! Enjoy as is or serve over vanilla ice cream for a unique dessert option!
4. Maple Glazed Air Fried Sweet Potatoes
Rub two large peeled sweet potatoes with melted butter, and drizzle maple syrup over the top before lightly seasoning with sea salt flakes and ground pepper if desired.
Place in your air fryer basket and cook at 375°F for about 25 minutes until golden brown but still slightly soft on the inside. Serve as is or alongside pork chops or grilled chicken breast!
See also: How To Cook An Egg In Air Fryer?
How To Preheat The Frozen Sweet Potatoes In Air Fryer
To preheat frozen sweet potatoes in an air fryer, set the temperature to 400°F and cook for 5 minutes. Shake the basket halfway through cooking time.
Once preheated, add your desired seasonings and continue cooking until golden brown and crispy.
Cleaning Up Air Fryer After Cooking The Sweet Potatoes
First, to clean an air fryer after cooking sweet potatoes, allow the appliance to cool completely. Then remove and discard any remaining food particles from the basket or pan.
Next, use a damp cloth or sponge with warm soapy water to wipe down all surfaces of the air fryer. Finally, dry all parts thoroughly before storing them away.
See also: How To Cook Bacon In Air Fryer?
FAQs
Do You Need To Soak Sweet Potatoes Before Air Frying?
Yes, it is recommended to soak sweet potatoes in water for at least 30 minutes before air frying them. This helps to soften the potato and reduce cooking time.
At What Temp Is A Sweet Potato Done?
Sweet potato is done when it reaches an internal temperature of 205°F (96°C).
Should I Peel Sweet Potatoes Before Baking?
Yes, it is recommended to peel sweet potatoes before baking them. This will help ensure that the potato cooks evenly and helps prevent a tough or chewy texture.
Should You Rinse Sweet Potatoes Before Cooking?
Yes, it is recommended to rinse sweet potatoes before cooking them. This helps remove any dirt or debris that may be on the surface of the potato.
How Long Does It Take For Sweet Potatoes To Get Tender?
Sweet potatoes usually take about 20-30 minutes to get tender when cooked in the oven at 375°F.
Conclusion
With an air fryer, you no longer have to worry about spending hours preparing sweet potatoes. Now you can enjoy this delicious dish in a fraction of the time and effort!
So why wait?
Try making air-fried sweet potatoes today for a tasty treat that's sure to please.
Happy cooking!