Have you ever wondered how to steam sweet potatoes without a steamer? Well, you're not alone. It's a common problem many faces, and the answer is simple – you need some ingenuity and a little know-how.
Don't worry! It can be done using simple equipment around the kitchen; you can steam sweet potatoes without a steamer.
There are several ways to cook sweet potatoes without an electric food steamer.
This article will show you how to steam sweet potatoes using one of the kitchen equipment you probably already have – a microwave, stovetop, oven, or rice cooker.
Here's how to steam sweet potatoes without a steamer.
How to prep sweet potatoes before steaming?
Preparing sweet potatoes before steaming is simple and fast! Begin by washing your sweet potatoes thoroughly to remove any dirt.
Then, peel the skin off and cut it into small cubes or slices – depending on what will be steamed. Make sure all pieces are uniform in size for more even cooking.
Finally, rinse the sweet potato pieces with cold water and pat dry with a paper towel. Now you're ready to steam your sweet potatoes!
How To Steam Sweet Potatoes Without A Steamer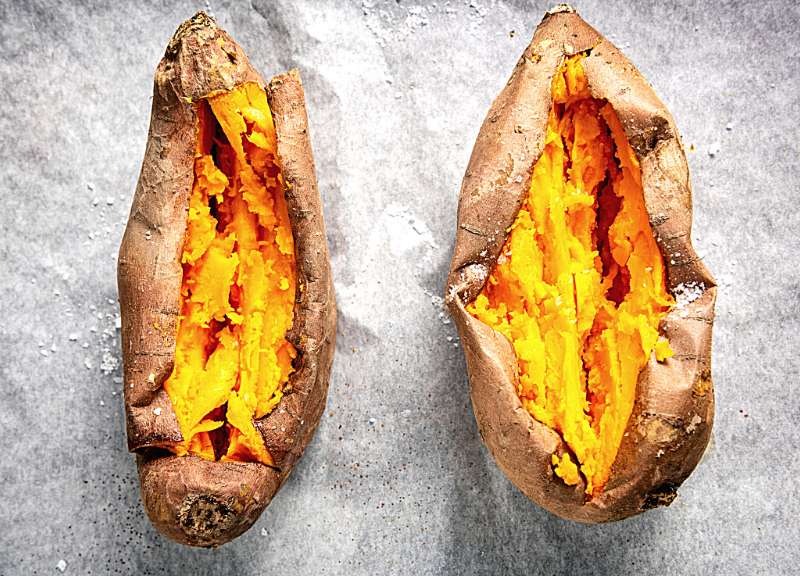 Here are several methods to steam your sweet potatoes. There's no right or wrong. Choose whatever is available to you.
The Oven Method
The first step in steaming your sweet potatoes is preheating your oven. Set it to 350°F (176°C), and ensure it comes up to temperature before adding anything else. This will ensure that your potatoes come out fluffy and cooked through evenly.
Then, cut off any bad spots from the sweet potato's skin and then wrap each potato in aluminum foil before placing them on a baking sheet.
Once you've wrapped each potato in foil, place them on a baking sheet and put them in the oven for about 45 minutes, or until they're fork tender when pierced with a fork.
When done cooking, remove them from the oven and let them cool slightly before unwrapping the foil and enjoying.
The Microwave Method
This method requires a microwave-safe container, like a glass or ceramic bowl. Start by washing your potato thoroughly and drying it with a paper towel or cloth.
Then, use a paring knife to poke several holes into both sides of the potato, which will help it cook more evenly.
Next, pour around 1/4 cup of water into the bowl, then place your potato inside the bowl. Cover the bowl with either plastic wrap or a plate and place it in the microwave for around 6 minutes on high power.
Keep an eye on your potato as microwaves vary in strength so that cooking times may vary slightly—you'll want to be sure that your potato is soft when pierced with a fork before turning off the heat.
Once finished cooking, remove from the microwave carefully and let sit for 2-3 minutes before handling. Allow them to cool down before serving.
The Stovetop Method
Grab your pot, fill it with enough water to cover the sweet potatoes, then turn on the heat. Place your sweet potatoes in the pot. Make sure they're submerged in water and bring them up to a boil.
Once boiling, reduce the heat and let it simmer for about 20 minutes or until your sweet potatoes are soft when pierced with a fork.
This is an important step – if you don't allow them to cook thoroughly, they won't be as flavorful or tender.
Once cooked through, carefully remove the sweet potatoes from the pot and drain off any remaining liquid.
It's done!
Rice Cooker Method
Fill your rice cooker with enough water so that the sweet potatoes can float freely in the pot without touching the bottom. Once you've done that, turn your rice cooker on and set it to "steam."
The amount of water you need depends on how many sweet potatoes you're steaming and the size of your rice cooker; however, generally speaking, one cup should do just fine.
Once your water is boiling, carefully place your washed sweet potatoes into the pot. Make sure they are spaced out evenly so that they all cook evenly.
Close the lid and let them cook for about 15-20 minutes or until they are tender when poked with a fork or knife.
If you want softer sweet potatoes, feel free to cook them for an extra 5-10 minutes – make sure not to overcook them!
FAQs
Here are frequently asked questions about steaming sweet potatoes.
How Do I Know When My Sweet Potatoes Are Done Steaming?
They're done when your potatoes are soft when pierced with a fork or knife.
Is It Better To Steam Sweet Potatoes In The Oven, Microwave, Stovetop, Or Rice Cooker?
It depends on your preferences – each method will give you slightly different results, so it's up to you which works best.
That said, if you're looking for the most hands-off approach, the rice cooker is probably your best bet since you don't need to keep an eye on it.
How Long Does It Take To Steam Sweet Potatoes?
The time will depend on the steaming method you use, as well as the size of the potatoes. Generally speaking, it should take around 15-20 minutes for your potatoes to be cooked.
Is There A Safe Way To Remove The Skin From My Sweet Potatoes After Steaming?
Yes! Once your potatoes have cooled off, you can grab them with an oven mitt and carefully slide the skin off with a sharp knife or spoon. Be sure to work slowly and safely – you don't want to risk burning yourself!
Conclusion
As you can see, there are multiple ways to steam sweet potatoes without having an actual steamer.
Whether you choose the oven, microwave, or stovetop method depends on how much time you have available and what kind of cookware/appliances you have access to
So choose whichever one works best for you. Keep in mind that the cooking times may vary slightly depending on the method and size of your potatoes.
Now go forth and enjoy some tasty steamed sweet potatoes!