Are you looking to learn how to cook beef kabobs in an air fryer? You're in the right place! Cooking kabobs in an air fryer is a delicious and convenient way to prepare your favorite meals.
Not only are these dishes full of flavor, but they also require minimal preparation time.
Whether you're looking for a quick lunch or dinner entree, learn how to make the perfect beef kabob using your air fryer.
Let's get started!
Ingredients Needed To Make Beef Kabobs In The Air Fryer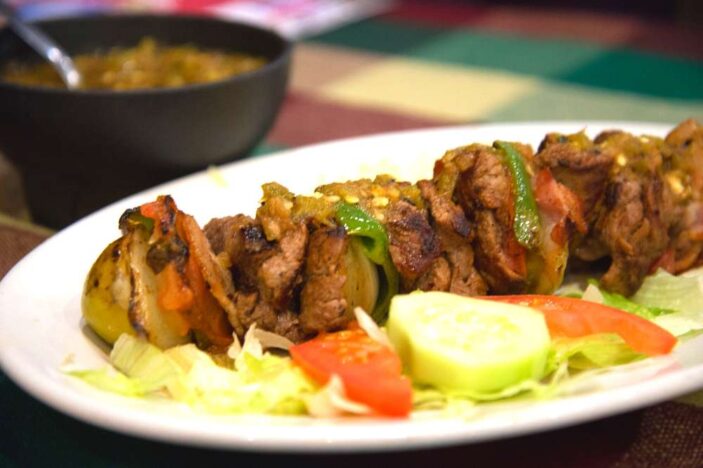 Before you start cooking the Beef Kabobs, here are some ingredients you can prepare to ensure smooth and efficient cook.
One lb. beef sirloin, cut into 1inch cubes
Two bell peppers, sliced into 1-inch pieces
One large onion, diced
Two cloves garlic, minced
3 tbsp extra virgin olive oil
1/4 cup Worcestershire sauce
1 tsp ground black pepper
Salt to taste
Selecting The Right Beef For Cooking Beef Kabobs
When selecting beef for cooking in an air fryer, it's important to choose a lean cut of beef. The most popular cuts used for kabobs include sirloin steak, flank steak, and a tenderloin steak.
All three are lean cuts with low-fat content and will cook evenly when placed on skewers in the air fryer.
Additionally, because these cuts are so lean, they don't contain as much moisture as other types of meats which helps reduce splatter inside the air fryer.
For best results, pre-soak your wooden skewers before adding them to the air fryer, as this will help prevent them from burning or catching fire during the cooking process.
See also: How To Cook A Corned Beef Brisket In An Air Fryer?
How To Prepare The Beef Kabobs Before Cooking In The Air Fryer?
To prepare the beef kabobs before cooking them in the air fryer, combine the cubed sirloin, bell peppers, onion, and garlic in a large bowl.
Drizzle with olive oil and Worcestershire sauce, and season with black pepper and salt to taste.
Mix until all of the ingredients are evenly coated. Thread onto skewers or place into an air fryer basket.
How To Cook Beef Kabobs In An Air Fryer?
Here is the step-by-step how to make Beef Kabobs in the air fryer:
Preheat the air fryer to 375 degrees Fahrenheit for about 5 minutes.
Place the prepared kabobs into the basket and cook for 8-10 minutes.
Flipping once halfway through cooking time.
After 8-10 minutes, check to see if the beef has cooked.
If not, continue to cook until the desired doneness is reached.
Once cooked through, remove from the air fryer and serve immediately with your favorite sides!
See also: How To Cook A Beef Casserole In An Air Fryer?
What You Need For Air Fryer Beef Kabobs
COSORI Air Fryer (Check Price On Amazon)
The COSORI Air Fryer is the perfect kitchen appliance for cooking this delicious beef kabob recipe.
It has five quarts of capacity, making it ideal for larger portions, and its manual control and dishwasher-safe components make it easy to use and clean up afterward.
Plus, the programmable settings with 360° rapid heat circulation technology ensure your food is cooked evenly every time.
The nine one-touch cooking functions on the tempered glass display give you more options when preparing meals, so you can easily customize them to suit your tastes.
With all these features, you can create perfectly cooked kabobs in just a few minutes!
What To Serve With Beef Kabobs?
There are many ways to serve your Beef Kabobs. There is no right or wrong. Everyone has different tastes. The suggestion below is what I recommend.
Mashed Potatoes: A classic favorite, mashed potatoes are the perfect accompaniment to a beef casserole.
Roasted Vegetables: Roast some carrots, Brussels sprouts, and sweet potato Idges for an extra nutritious side dish that pairs perfectly with a hearty beef casserole.
Buttered Noodles or Rice Pilaf: Buttery noodles or rice pilaf can help soak up all the delicious saucy flavors of your beef casserole and make it even tastier!
Biscuits or Garlic Bread: Serve up fluffy homemade biscuits or crunchy garlic bread on the side to take your dinner to the next level!
Salad Greens: Add freshness to your meal with a crisp green salad full of vibrant vegetables like tomatoes, cucumbers, peppers, and more!
See also: How To Cook A Beef Heart In An Air Fryer?
How To Store And Preheat The Leftover Beef Kabobs With The Air Fryer Method
If you have leftover Beef Kabobs, do not thrash them away. You can still store and reheat them again in the air fryer for your next mealtime. Here are the simple tips you can follow:
Storage Tips For the Leftover Beef Kabobs
Food Storage Containers (See on Amazon)
Leftover beef kabobs can be a delicious treat, but storing them properly is important, so they don't spoil or become unsafe to eat.
The best way is to cool the kabobs down quickly and store them in an airtight container in the fridge for up to five days. If you plan on keeping the kabobs around longer than that, it's best to freeze them as soon as possible.
Wrapping each kabob tightly with aluminum foil will help keep their flavor intact until you're ready to enjoy them again.
How To Reheat The Leftover Beef Kabobs In The Air Fryer?
Reheating kabobs in an air fryer is a fast and easy way to enjoy them again.
To do this, preheat the air fryer to 350 degrees Fahrenheit.
Then place the kabobs on the basket or rack of the air fryer, making sure not to overcrowd it so they can be cooked evenly.
Cook for 5-7 minutes or until heated through before serving.
Frequently Asked Questions
What Type Of Beef Should I Use?
It depends on what dish you are making. Popular cuts of beef for roasting, grilling, and braising include chuck roast, ribeye steak, sirloin steak, brisket, and flank steak.
Ground beef is often used in dishes like burgers and meatloaf.
How Long Do I Need To Cook The Kabobs In An Air Fryer?
The cooking time for kabobs in an air fryer will vary depending on the size of the kabobs and the type of ingredients used.
Generally, it takes about 10-15 minutes to cook kabobs in an air fryer at 400°F (204°C).
Can I Marinate The Beef Before Cooking It In An Air Fryer?
You can marinate the beef before cooking it in an air fryer. However, pat the beef dry with paper towels after marinating to remove any excess moisture before placing it in the air fryer.
Do I Need To Preheat My Air Fryer Before Adding Kabobs?
Yes, it is recommended to preheat your air fryer before adding kabobs. This will help ensure that the kabobs cook evenly and thoroughly.
What Can Kind Of Vegetables Be Added To The Kabobs When Cooked In An Air Fryer?
Vegetables added to kabobs when cooked in an air fryer include bell peppers, onions, mushrooms, zucchini, squash, eggplant, cherry tomatoes, and potatoes.
Conclusion
The next time you're in the mood for a savory and delicious meal, try cooking beef kabobs in your air fryer.
You'll be surprised how quick and easy it is to make flavorful meals that satisfy any appetite.
So get out your air fryer, pick up some fresh ingredients, and give it a go!