Kabocha squash is an incredibly versatile vegetable and can be cooked in various ways.
However, steaming it is one of the best methods to retain its flavor and texture and all the health benefits that come with it.
In this article, we'll explore four ways you can steam Kabocha squash to get creative when cooking your next meal.
Let's get started!
How to steam kabocha squash with a Food Steamer Method
Using a food steamer to cook is an effective and easy way to bring out its flavor and preserve the nutrients in the squash. Here's how you can try this method:
Gather your ingredients
You will need the following:
One kabocha squash
Peeled, seeded, and cut into 1-inch cubes
Two tablespoons of butter
Four cloves of garlic (minced)
Three sprigs of thyme
One teaspoon of salt
½ teaspoon black pepper, and
¼ cup water.
Start Steaming
Before cooking, fill your food steamer with water until the indicated line is on the inside.
Place all the cubed pieces of kabocha squash in the steaming basket or tray, then place them into your food steamer so that all pieces are evenly distributed.
Put on the lid and turn on medium-high heat for about 10 minutes or until tender when pierced with a fork.
Once done cooking, remove from heat immediately and set aside in a bowl.
Finish It Off
After removing the cooked kabocha from the steam basket, add butter, minced garlic cloves, thyme leaves, salt, and pepper.
Stirring everything together gently so as not to break down too much of those precious cubes.
Lastly, pour ¼ cup water over the top. Stir lightly before transferring back into the preheated pan to simmer for around 5 minutes over low heat.
Serve hot & enjoy!
How to steam kabocha squash in a Microwave
Another way to steam Kabocha squash is through microwaving. Cut your kabocha into small cubes no bigger than 2 inches.
Then, place them onto a microwave-safe plate lined with paper towels or parchment paper.
Cover with another layer of paper towels before microwaving at full power for 3-5 minutes.
Once finished cooking, transfer the cubes onto another plate immediately using kitchen tongs or gloves. Be careful because they will be hot!
Use a fork to test if they are soft enough; otherwise, return them to the microwave for another minute.
TOSHIBA EM131A5C-SS Countertop Microwave Oven, 1.2 Cu Ft with 12.4″ Turntable, Smart Humidity Sensor…
【Pre-programmed sensor menu】 for optimum heating of popular foods like pizza, potatoes, veggies, and more; Power Wattage (Microwave): 1100W;…
【Stylish Appearance with Large Interior, fitting a 12inch Pizza】Stainless Steel exterior (color of door frame is stainless steel, enclosure is…
【Other Functions】1100 watts with 10 power settings, defrost by time&weight, clock, and kitchen timer
【Practical Control Panel】Large digital display, easy-to-read control panel. The keypad was covered by a protective film during the shipment….
【Mute Function】If you wish to mute the buzzer of the microwave, please long press the button "8" for 3-5 seconds. The buzzer is automatically…
How to steam kabocha squash in a Pressure Cooker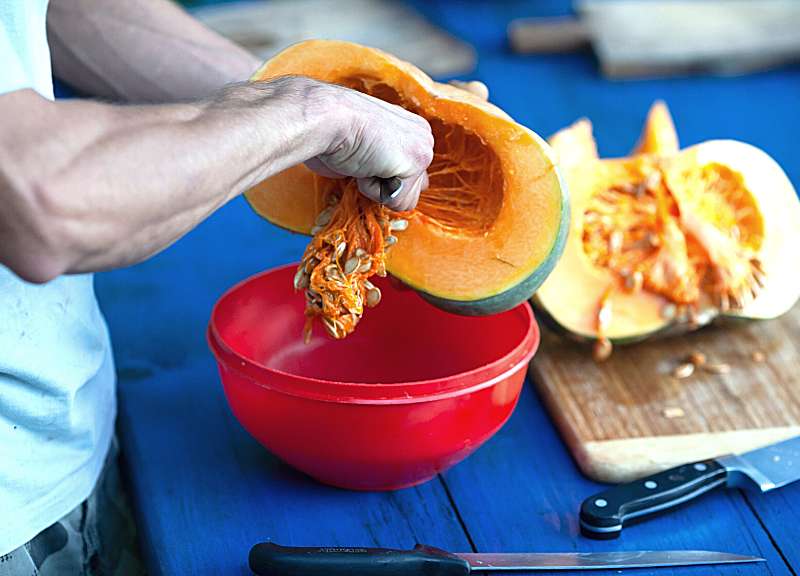 Cooking kabocha squash in a pressure cooker is an easy and delicious way to make this vegetable.
The pressure cooker helps break down the hard shell of the squash, making it easier to scoop out the tasty inside.
You can have your own perfectly cooked kabocha squash at home with just a few simple steps.
Step 1: Preparing Your Squash
Before getting started, ensure your kabocha is washed and cleaned properly. Then cut it into wedges or cubes; either one works fine.
Once chopped, use a spoon to scrape out any seeds from the center of each piece before cooking.
Step 2: Cooking in a Pressure Cooker
Add about one cup of water to the pressure cooker along with your cubed or wedged pieces of kabocha squash.
Put on the lid and turn up the heat until it reaches high-pressure mode (usually takes about five minutes).
Let cook for around ten minutes, then reduce heat slightly until steam starts coming out slowly through the vent tube (this should take another five minutes).
Step 3: Finishing Up & Serving
Once done cooking, release all remaining steam by turning off the heat completely.
Wait for several more minutes before taking off the lid. Use tongs or a slotted spoon to remove cooked pieces onto a plate.
They should be soft enough now that you can easily scoop them out. Finally, season as desired with salt and pepper – enjoy hot!
Sale
Instant Pot Duo 7-in-1 Electric Pressure Cooker, Slow Cooker, Rice Cooker, Steamer, Sauté, Yogurt…
7-IN-1 FUNCTIONALITY: Pressure cook, slow cook, rice cooker, yogurt maker, steamer, sauté pan and food warmer.
QUICK ONE-TOUCH COOKING: 13 customizable Smart Programs for pressure cooking ribs, soups, beans, rice, poultry, yogurt, desserts and more.
COOK FAST OR SLOW: Pressure cook delicious one-pot meals up to 70% faster than traditional cooking methods or slow cook your favorite traditional…
QUICK AND EASY CLEAN UP: Finger-print resistant, stainless-steel sides and dishwasher-safe lid, inner pot, and accessories.
PROVEN SAFETY FEATURES: Includes over 10 safety features, plus overheat protection and safe-locking lid
How to steam kabocha squash on a stovetop
Steaming kabocha squash on the stovetop is great for bringing out its natural sweetness and nutty flavors.
This cooking method allows for an evenly cooked, tender vegetable that can be served as a side dish or used in recipes like soups, stews, and purees.
Here are the steps you need to follow to steam your kabocha squash:
Prepare – Start by washing your kabocha squash with cold water and cleaning off any dirt or debris from its skin. Then cut it into cubes or slices.
Set Up – You'll need a large pot with a tight-fitting lid and two inches of salted water at the bottom. Place your cubed squash inside.
Once everything is set up, place the pot over medium heat and cook for about 10 minutes until you can easily pierce it using a fork.
During this time, occasionally check for enough liquid in the pot so that nothing sticks.
Stir thoroughly to get cooked equally well. When done steaming, remove from heat and serve as desired.
CUSIMAX 1800W Ceramic Electric Hot Plate for Cooking, Dual Control Infrared Cooktop, Portable…
[All Types of Cookware]–CUSIMAX Ceramic Double Hot Plate is suitable for All Type of cooker. Pots and pans ranging to 7.1''+7.1'', including…
[Convenient]–Great for every day use or as an extra cooking appliance in a busy kitchen. No stovetop required. Whether it's your home kitchen,…
[2 Burners and Convenient]–Convenient Cooking in Smaller Spaces, cook food including warm sauces, decoct steak, grilled cheese, boil water, make…
[Safety, Easy to Clean, Durable]–Automatic safety shutoff function,temperature is regulated by a thermostat. Easy to clean durable ceramic cooktop….
What is kabocha squash?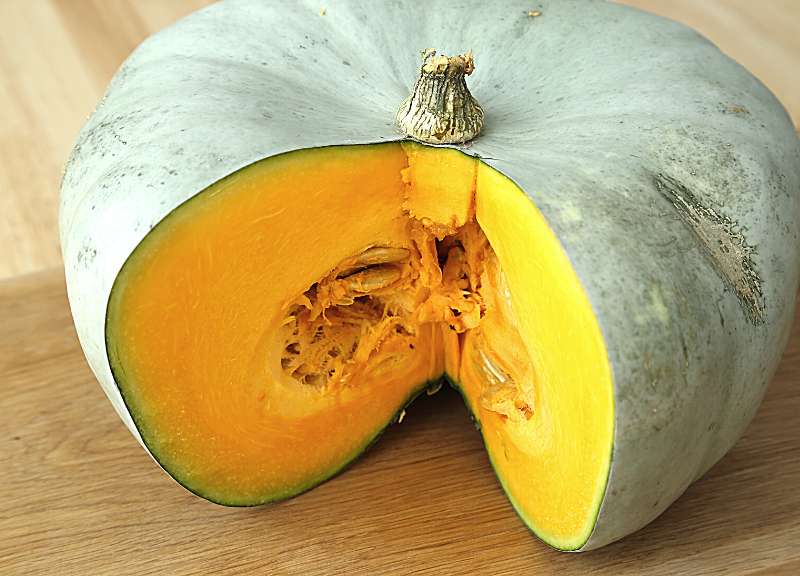 Kabocha squash is a winter squash, most commonly found in Japan and other parts of Asia.
It has green-grey skin with ridges, and its flesh is yellow-orange and sweet.
Kabocha can be boiled, roasted, or steamed, then added to soups, curries, or desserts like pies. It's an incredibly versatile vegetable that adds great flavor to any meal.
Check out similar articles:
FAQs
How Long Does Squash Take To Cook In A Steamer?
Cooking squash in a steamer is easy and relatively quick. Depending on the size of the squash and how soft you like it, it should take between 8-15 minutes to cook.
Do You Have To Remove The Skin From Kabocha Squash?
You will need to remove the skin from the kabocha squash before cooking. The skin is a bit tough and not very tasty, so peeling it off is best.
Use a sharp knife or vegetable peeler to remove the outer green layer.
Can You Overcook Kabocha?
You can overcook kabocha, but the squash may become mushy if you cook it too long. To prevent this, keep an eye on your kabocha while cooking and remove it from heat once it is fork-tender.
Is Kabocha Pumpkin Healthy?
Yes, kabocha pumpkin is a healthy food option. It is low in calories and high in fiber, vitamins, and minerals. It's also an excellent source of antioxidants and can help support heart health.
Additionally, it contains fewer carbs than many other types of winter squash.
Conclusion
You can easily cook up a delicious Kabocha squash with the right ingredients and a few simple steps.
Whether it's a soup, salad, or side dish – steaming this vegetable is an excellent way to bring out its natural flavor and texture.
So get creative and find out which recipe best suits your taste!
Happy cooking!
Last update on 2023-05-31 / Affiliate links / Images from Amazon Product Advertising API