Do you love the sweet, earthy taste of gem squash? If so, why not steam it as a delicious side dish for your next meal?
Steaming is one of the healthiest and most flavorful ways to prepare gem squash. Plus, it's easy to do! This post will show you how to steam gem squash using a pot and a dutch oven.
We'll explain everything from prepping and seasoning your squash to ensuring that it comes out perfectly cooked every time.
With our tips and tricks, you can have an amazing side dish in no time!
Let's learn how to steam gem squash!
How To Prepare Gem Squash Before Steaming
Before you begin steaming your gem squash, there are a few things you need to do. Start by washing the squash and then peeling off the outer skin.
You can use a vegetable peeler or sharp knife for this step – whichever works best for you.
Next, cut the squash into small cubes or bite-sized pieces. This will ensure that the steaming process is fast and effective.
Once your squash is prepped, it's time to season. Sprinkle a pinch of salt over the cubes and mix them with your hands – this will help to bring out their flavor.
You can also experiment with herbs and spices like garlic powder, paprika, or cumin to give your gem squash a unique taste.
How To Steam Gem Squash In A Pot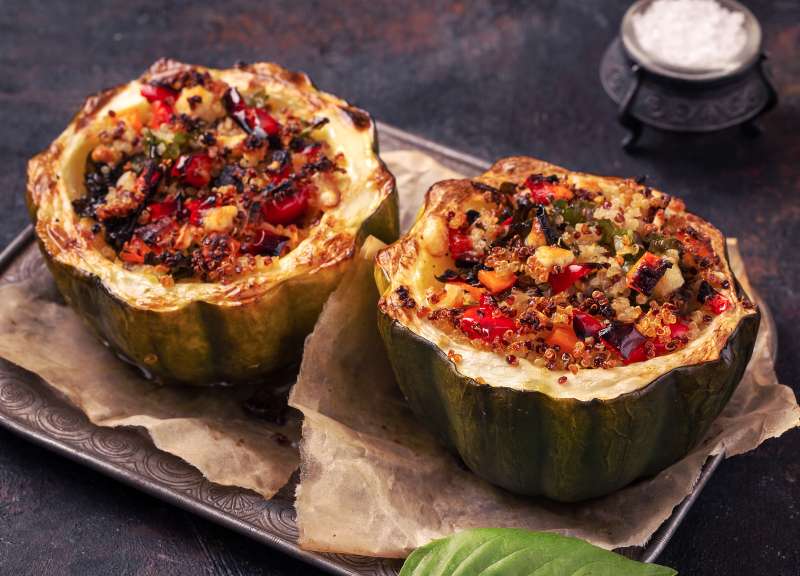 Now it's time to get steaming! You'll need a pot and a steamer basket or colander for the first method.
Fill your pot with boiling water, place the steamer basket or colander, and add your seasoned gem squash cubes. Make sure that they are spread out evenly and not overcrowded.
Cover the pot with a lid and let it steam for about 10 minutes. This will give your gem squash enough time to cook without becoming too soggy.
When the 10 minutes are up, open the lid and check if the cubes are tender. If they're still a bit firm, let them steam for an extra few minutes.
Once they reach your desired texture, remove them from the pot and be ready to serve.
How To Steam Gem Squash In A Dutch Oven
If you don't have a steamer basket or colander, you can use a dutch oven to steam your gem squash instead. And you also need parchment paper.
Fill the bottom of the dutch oven with water, enough to cover the bottom. Place the parchment paper on top of the water, then add the gem squash cubes.
Cover the dutch oven with a lid, and let it steam for 10 minutes.
After 10 minutes, open the lid to check if they're tender. If not, let them steam for an extra few minutes until they reach your desired result.
Once they're done, carefully remove them from the pot and enjoy.
FAQs
Here are frequently asked questions about steaming gem squash.
How Do You Cut A Gem Squash?
Cutting a gem squash is quick and easy. First, use a sharp, heavy knife to cut the squash in two halves. Once it's open, you can peel off the hard green skin and cut the pieces into small cubes about 3-5 cm.
Do You Peel The Squash Before Steaming?
Yes, it would be best to peel the squash before steaming. The skin is hard and can be difficult to chew when cooked. Make sure you cut it into uniform cubes.
How Long Does Squash Take To Cook In A Steamer?
The squash usually takes 10-15 minutes to cook in a steamer. However, it could take longer, depending on how big the cut is.
Can You Eat Gem Squash Raw?
Yes, you can eat gem squash raw. Before eating, wash it thoroughly and cut away any dark or bruised parts.
Conclusion
Now you know how to steam gem squash. By following these steps, you can easily make a delicious and healthy side dish in no time.
Whether you use a pot or dutch oven, steaming is the best way to cook gem squash for maximum flavor and nutrition. So go ahead and give it a try.
Happy cooking!