It's summertime, and that means one thing — hot dogs! The bun is one of the most important components of a delicious hot dog.
But it's hard to get that perfectly steamed bun that's soft yet firm enough to hold all the condiments.
Thankfully, we have a solution for you with this guide on how to steam hot dog buns with your food steamer (and without a steamer).
Let's get started!
How to steam hot dog buns With A Food Steamer
Did you know that steaming your hot dog buns with a food steamer is the best way to get them just how you like them?
It's easy, fast, and gives you a consistent result every time. All you need is a food steamer, warm water, and your favorite hot dog buns.
Here's how to cook it:
Step 1: Prep Your Buns and Steamer
Prepping your buns and steamer is the most important part of this process. Start by selecting fresh buns that are free from mold or discoloration.
Then, ensure your electric food steamer has been thoroughly cleaned and emptied before use. Once everything is prepped and ready to go, you can start loading your buns into the basket of the steamer.
Step 2: Setting Up Your Electric Food Steamer
When setting up your electric food steamer, read your manufacturer's instructions before attempting anything else.
This will help ensure you get the best results possible when enjoying those perfectly steamed buns.
First, fill up the bottom of your food steamer with water until it reaches around two-thirds full (you don't want too much water).
Step 3: Set Your Timer and cook
Now it's time to set your timer according to your desired result. For softer, fluffier buns, set it for around five minutes.
However, if you prefer a more crisp bun, set it for around 8 minutes. Once you have set your timer, please turn on your steamer and let it run until it has elapsed.
Step 4: Enjoy Your Hot Dog Buns
When the timer goes off, turn off your steamer and carefully remove the hot dog buns using tongs or oven mitts, as they will be very hot!
Now all that's left is to place them onto a plate-serve and enjoy!
How to steam hot dog buns Without A Food Steamer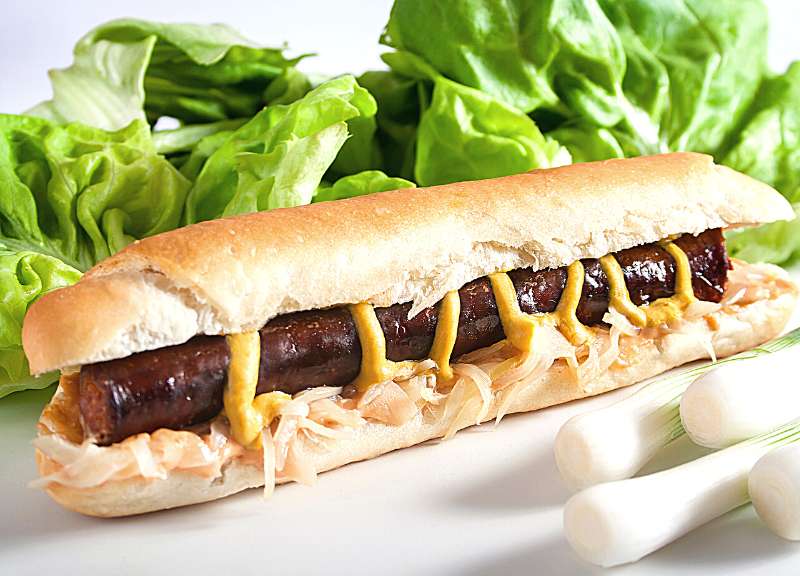 Need a food steamer? No worries! You can still enjoy perfectly steamed hot dog buns without one.
You can choose several steaming methods, depending on your availability.
Method 1: Steaming hot dog buns in a pan (on the stovetop)
The pan method is one of the most popular ways of steaming buns home. All you need is your favorite pan with some water and a lid.
Fill the pan halfway with water and boil over medium heat before adding your buns. Next, reduce heat to low-medium and cover the pan with the lid.
Cook for 5 minutes or until the buns are heated through. Be sure not to open the lid during this time, or else all that precious steam will escape.
Finally, remove from heat, uncover and let cool for 2-3 minutes before serving up those delicious hot dog buns.
Method 2: Steaming hot dog buns in a microwave
The microwave method is also pretty straightforward but requires extra setup compared to the pan method.
First, place your buns in an oven-safe container with two cups of water. Place in microwave on high heat for 1 minute (or more, depending on your container size).
Then, carefully remove the container from the microwave using oven mitts and let it sit covered for 3-4 minutes before serving those tasty buns.
Method 3: Steaming hot dog buns in the oven
If you don't have access to a stovetop or microwave, then fear not – there's still hope in sight! The oven method takes slightly longer than the previous methods but yields great results.
Preheat your oven to 350 degrees Fahrenheit and place buns on parchment paper atop a baking sheet (this will help keep them from sticking).
Bake for 8-10 minutes or until lightly golden brown on top before transferring them onto a cooling rack for about 5 minutes before serving.
Method 4: Steaming hot dog buns in an instant pot
Steaming your hot dog buns in an Instant Pot is quick, easy, and yields delicious results.
The first step is to prepare the Instant Pot for steaming. You'll need to fill the pot with 1 cup of water and place the trivet inside.
This will create a nice little nest for your buns when it's time to cook them. Next, you'll want to place your buns on top of the trivet and make sure they are evenly spaced so that they cook evenly.
Ensure all the buns touch the trivet so they don't burn or stick to the bottom of the pot. Once everything is set up correctly, secure the lid and select "Steam" mode on your Instant Pot.
Set the timer for 5 minutes and let it do its thing. When time is up, carefully remove your perfectly steamed buns from the pot using tongs or a spatula and enjoy.
Depending on how many buns you have cooked at once, you may need to adjust the cooking time accordingly.
For example, you may need a few extra minutes of cooking time if you have more than 8-10 buns in one batch.
Method 5: Steaming hot dog buns in the Ninja Foodi
The Ninja Foodi is an all-in-one kitchen appliance that doubles as a pressure cooker and an air fryer.
To get started, you'll want to fill your Ninja Foodi with about one cup of water and place your buns directly on top of the basket.
Then, turn your appliance to "steam" mode and select the appropriate cooking time for your buns (usually around 5 minutes).
When cooking, carefully remove your buns from the Ninja Foodi using oven mitts or tongs.
If you want extra-crispy edges, pop them into the air fryer for a few minutes before serving. This will give them a nice crunch without drying them out or making them too hard.
Method 6: Steaming hot dog buns in the crock pot
You can use your crock pot to steam those buns! Here's how.
Preheat your crock pot on high for 15 minutes. While it heats up, place your hot dog buns into a steamer basket or an oven-safe bowl. Ensure that the buns are not touching each other; otherwise, they will stick together.
Next, pour enough water into the bottom of the crock pot so that it covers about one-third of the bottom (it should not go any higher than that).
Place your steamer basket on top of the rack that came with your crock pot, and then lower it into place so that it sits directly above the water. Cover with a lid and let steam for 10 minutes before checking to ensure they're done.
If your buns are still not soft and fluffy enough after 10 minutes, put them back in for another 5–10 minutes (be careful not to let them get overly soggy).
Once they're finished steaming, remove them from the heat and let them cool for a few minutes before serving them with your favorite condiments and toppings.
FAQs
Here are frequently asked questions about steaming hot dog buns.
Should Hot Dog Buns Be Steamed?
Steaming hot dog buns is an excellent way to get them just how you like them. The steam helps keep the buns moist and tender, providing a delicious flavor that pairs well with various condiments.
Additionally, steaming is a quick, easy way to prepare your buns ahead of time or reheat them if they've gone cold.
Should I Toast Or Steam Hot Dog Buns?
Toasting or steaming hot dog buns are both great options. Toasting the buns provides a crispy texture while steaming them keeps them moist and tender. It depends on your preference.
How Do You Steam Premade Buns?
You can steam premade buns using a steamer, Instant Pot, Ninja Foodi, or crock pot.
All you have to do is set your appliance to "Steam" mode (or the closest equivalent) and let it do its thing.
Why Are My Steamed Buns Not Fluffy?
If your steamed buns are not fluffy, they could be overcooked, or the steam was too intense.
Try adjusting the cooking time and decreasing the water used when steaming to get a softer result.
How Do You Tell When Steamed Buns Are Done?
Steamed buns are done when they are soft, fluffy, and heated through. If you're unsure if your buns are yet done, you can use a toothpick or paring knife to check the center of the bun.
You can also give them a squeeze in your hand; if they feel soft enough for your liking.
How Do You Steam Hot Dog Buns For A Crowd?
If you're steaming hot dog buns for a crowd, your best bet is to use a steamer or an Instant Pot.
You can fit several buns into one basket and steam them all at once. Try using the Ninja Foodi or crock pot for even quicker cooking times.
Conclusion
Steaming hot dog buns is a great way to get delicious and tender buns without having to toast them.
Whether you use an electric steamer, an Instant Pot, or just plain old boiling water, steaming your buns is quick and easy.
Plus, you don't have to worry about burning them, so it's a win-win situation!
So next time you're craving hot dogs but don't want all the fuss of toasting buns, give steaming a try – it might be your new favorite way to enjoy a classic treat.
Happy cooking!