Owning a rice cooker can provide you with perfectly cooked rice every single time. For that reason alone, it's a handy piece of kitchen equipment to have in your home.
If you don't eat rice that often, you may wonder if there is anything else you can do with your rice cooker to get more use.
Many people would be surprised at just how many things you can cook in a rice cooker.
Thus, we looked at different ways in which you can utilize your rice cooker to its maximum potential, including how to steam chicken in a rice cooker and how to make an easy meal out of it.
We also have a great recipe for barbeque ribs.
Let's get into it!
Rice Cooker Recipes
Here are three ways to steam your chicken in a rice cooker today.
1. Steamed Chicken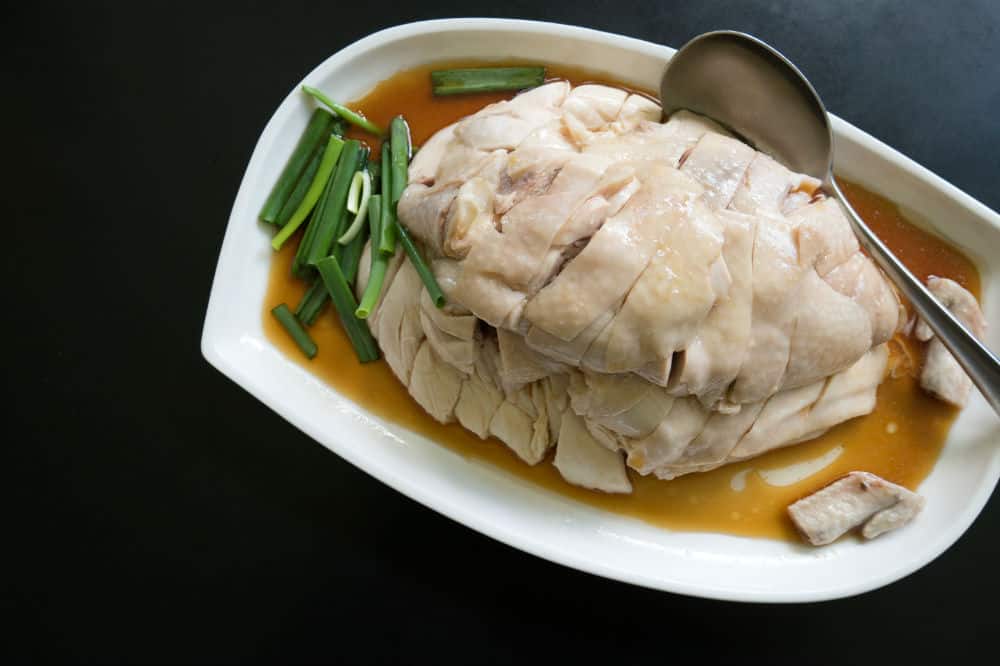 Surprisingly, you can steam any cut of chicken you want in a rice cooker. Breasts, wings, thighs, even a whole chicken if your cooker is big enough!
Steaming meat is a great way of cooking as it keeps the meat tender and moist, as opposed to baking or roasting meat in hot air, which can dry it out. You can also use the leftover water from steaming to make soup or gravy later.
For this recipe, you will need a rack to place your chicken to raise it from the water. If your rice cooker didn't come with a rack, then you could improvise with balled-up tin foil and a small plate placed on top.
How to steam chicken in a rice cooker in five easy steps:
Put two-and-a-half cups of water into your rice cooker.
Place a rack (or improvised rack) into the cooker.
Put your chosen cuts of chicken onto the rack.
Add your chosen seasoning (salt, garlic, and others) to the water or directly on top of the chicken.
Place the lid on top and press cook.
It's that simple! The cooking time for steamed chicken is approximately 20 minutes, but it will depend on the size of the cut.
Always check that the meat is thoroughly cooked, using a meat thermometer if unsure. Once you remove your chicken from the rice cooker, you'll find that the tender, juicy meat falls away from the bone really easily.
2. Chicken and Rice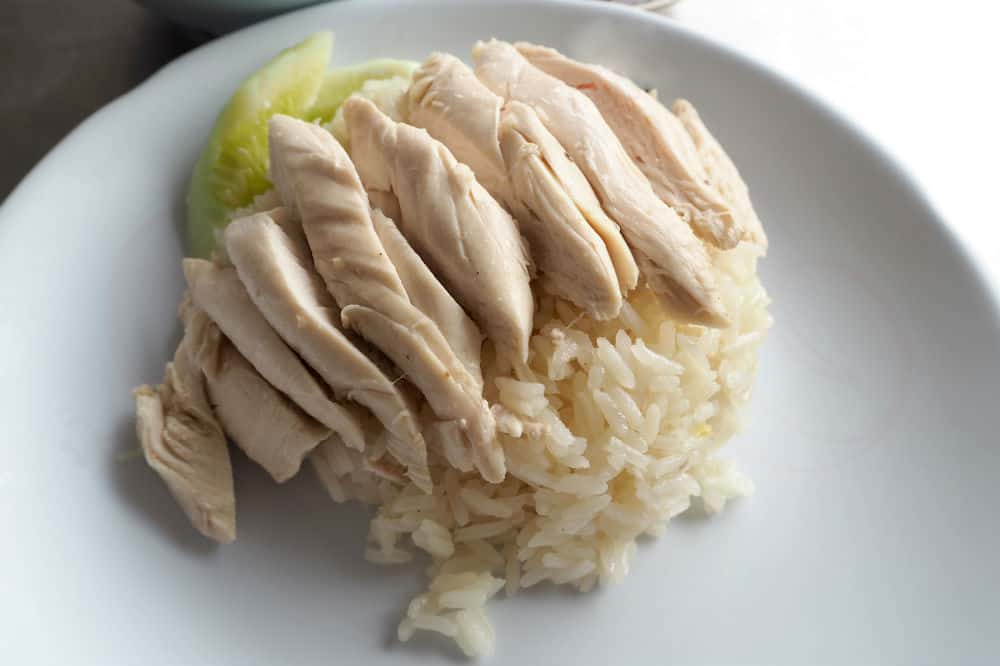 This simple recipe allows you to cook a whole meal in your rice cooker at the same time. You can literally just place all of the ingredients in the cooker, press cook, and then walk away.
Once return at the end of the rice cooking cycle, you have a meal ready for the family of four to enjoy.
Here are the simple steps:
Place a cup of rice and three cups of water into the rice cooker.
Add in some salt and your chosen flavorings.
Place half a chicken on top of the rice.
Put the lid on the cooker and press cook.
Once your rice is cooked through, your chicken will be steamed to perfection, and the rice below will have a delicious savory flavor from your flavorings and the chicken juices.
A delicious flavoring that you could try is adding a spring onion, a small knob of ginger, and a couple of pandan leaves for a simple Chinese-style dish that can be served with spicy chili and soy dipping sauce.
You could also experiment with anything, from barbeque to taco or fajita seasonings. Almost anything will work in this simple dish.
3. Barbeque Ribs
You can cook almost any kind of meat in a rice cooker, and in this recipe, we looked at how to cook country-style barbeque ribs.
Here are the steps in making lip-smacking, finger-licking goodness in under 15 minutes of prep time:
Switch your rice cooker on and preheat.
Take one slab of baby back ribs and roughly cut it into pieces.
Coat the ribs in brown sugar.
Add a small amount of oil to your rice cooker and the sugary ribs.
Once the ribs are lightly browned, add a bottle of beer (the darker, the better), half or two-thirds of a cup of barbeque sauce, and a splash of Worcestershire sauce.
Place the lid on and leave to cook for around an hour.
Let the ribs stand in the sauce for a bit longer, and wait for the sauce to thicken.
See the 18 best foods you can steam.
Rice Cookers…Hacked!
You can turn your barely-used rice cooker into one of your home's most regularly used kitchen appliances if you just know how.
How to steam chicken in a rice cooker can be achieved in five easy steps, but why stop there when you can prepare a whole meal by adding some rice to your cooker first?
Try our recipe for barbeque ribs and experiment with other meats, flavors, and sauces.
The best thing about cooking in a rice cooker is adding all the ingredients and then just walking away and relaxing until it's cooked to perfection.
I hope you enjoy them!