Do you want to add extra nutrition and flavor to your meals without spending too much time in the kitchen?
Cooking with a steamer may be just what you need. Not only is it easy, but it's also healthy. No added oils or fats are needed.
Plus, it works for a variety of vegetables and other foods. But if you're new to steamers, there's an important question: can you steam carrots in a steamer?
Read on to learn more details!
Can You Steam Carrots In A Steamer?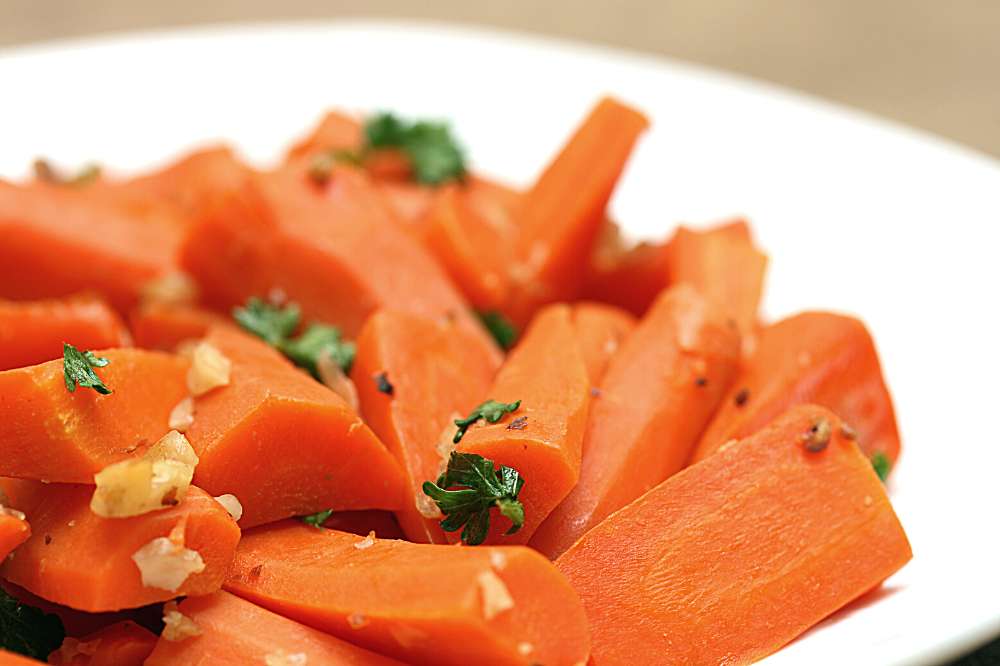 Yes, you can steam carrots in a steamer. Steaming is one of the best ways to cook carrots, as it preserves their flavor and nutrients while making them soft enough to eat.
Steaming is considered one of the healthiest cooking methods because it requires no added fat or oil.
It also helps preserve more vitamins and minerals than other cooking methods, such as boiling or frying.
When steamed correctly, carrots become tender but retain their bright color and sweet flavor without becoming mushy, like when boiled for too long.
This makes them ideal for adding to salads, soups, stews, or side dishes that call for cooked vegetables with great texture and taste.
See also: Can You Steam Cabbage In A Steamer?
The Benefits Of Steaming Carrots
Steaming carrots can provide you with a variety of health benefits. Carrots contain high levels of beta carotene, an antioxidant that helps to protect the body from free radical damage.
Additionally, steaming carrots preserves their natural vitamin content and allows them to retain more nutrients than boiling or roasting them.
The process softens the texture of the carrot while still retaining its crunchy taste and flavor.
Steamed carrots are also easier to digest than raw ones as they have been softened by heat rather than breaking down in your stomach like raw vegetables.
By steaming carrots instead of boiling or roasting them, you can ensure they remain high in vitamins and minerals such as A, C, K, and folate.
All are essential for healthy vision, immune system functioning, and bone health. Beta-carotene converts into Vitamin A when broken down by enzymes within our bodies.
It is then used for cell growth and repair for overall good health. Furthermore, steamed carrots contain dietary fiber, which aids digestion.
This helps us absorb vital nutrients from food sources more efficiently while improving stool consistency (this prevents constipation).
Overall, the benefits of steaming carrots are plentiful. This method preserves most of their nutritional value and makes them easier to digest.
See also: Can You Steam Pork Chops In A Steamer?
What's The Difference Between Boiling And Steaming Carrots?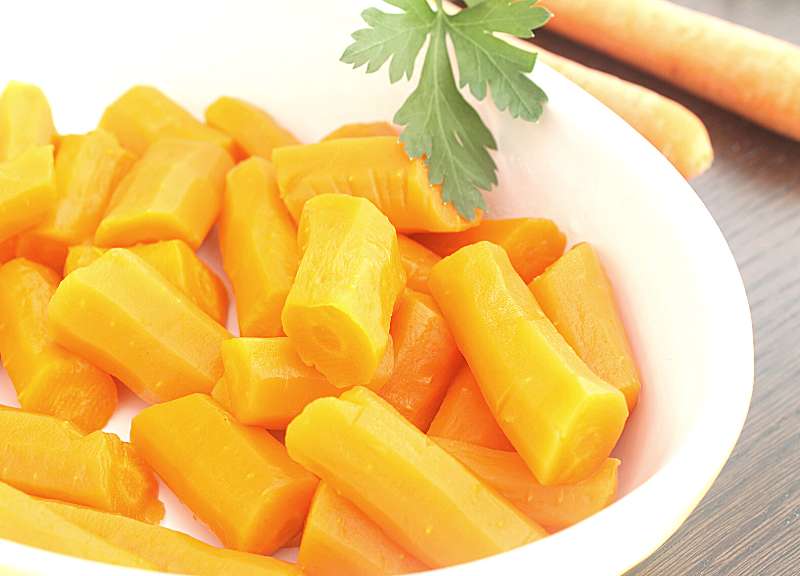 Boiling and steaming carrots are two different methods of cooking that similar yield results.
Boiling is the process of submerging food in boiling water, while steaming involves placing food over a pot or pan with boiling water below it.
The main difference between these two methods is that boiled carrots will retain more flavor and nutrients than those cooked by steam.
Boiling carrots allows them to be submerged in hot liquid, which helps to release their natural sweetness and enhances their flavor profile.
Additionally, if added to the water, they will absorb some of the liquid's nutritional content, such as minerals from the salt or other seasonings.
Boiled carrots can be eaten whole, mashed, or pureed into soups or sauces for additional flavor enhancement.
On the other hand, steamed carrots are placed directly over boiling water rather than immersed like when you boil them.
This method maintains more vitamins and minerals since there isn't direct contact with a liquid during cooking time.
However, this does not mean that all nutrients are preserved as many steam escapes from around the lid of your pot, allowing some vitamin loss through evaporation.
Steamed carrots tend to have a firmer texture than boiled ones but still maintain a good moisture level, making them ideal for adding a crunchy texture to salads without losing out on any essential nutrients & flavors.
See also: Can You Steam Eggplant In A Steamer?
Type Of Steamers For Steaming Carrots
The best type of steamer for steaming carrots is an electric steamer. An electric steamer is designed to steam vegetables and other foods, making it the most efficient choice.
It uses a heating element to create steam from water placed in the bottom of the unit and circulates it throughout the container, cooking food quickly and evenly.
Furthermore, electric steamers usually come with adjustable timers so you can easily set how long you want your carrots to cook.
Electric steamers are convenient because they don't require any special preparation or setup.
Simply fill the reservoir with water, add your desired amount of carrots, turn on your machine and wait for them to finish cooking.
Additionally, many models have built-in safety features like auto shutoff when all moisture has evaporated from the pot or if there's too much pressure inside, preventing overcooking and potential accidents.
Compared to traditional stovetop or microwave steaming veggies, an electric vegetable cooker eliminates guesswork, such as ensuring enough water stays in the pan. So it doesn't dry out before your food has finished cooking.
Electric Steamers also offer more control over temperature settings than microwaves (which tend to use high heat), allowing you to get optimal texture without sacrificing flavor.
Lastly, some models double as rice makers, so you can save time by preparing two dishes at once.
All these advantages make investing in an electric vegetable steamer worth considering if convenience and ease of use are important factors in deciding what kind of appliance will work best for you when prepping healthy meals at home.
See also: Can You Steam Frozen Peas In A Steamer?
How To Steam Carrots In An Electric Steamer?
Here is the general step-by-step on how to steam your carrots in a food steamer:
Begin by gathering the necessary ingredients: carrots, a few tablespoons of water, and an electric steamer.
Wash the carrots thoroughly with cold running water to remove any dirt or debris. Peel them if desired; this will help keep their color vibrant during cooking.
Place the washed and peeled carrots in your electric steamer basket, ensuring they are evenly spread out so they all cook uniformly.
Add two to three tablespoons of cold water to the bottom basin of your steamer before adding the carrot-filled basket on top. This will ensure even heat distribution while helping avoid burning or scorching vegetables as you steam them together in one appliance.
Plug in your electric steamer and set it according to its instructions for optimal temperature and time settings for vegetables like carrots. It may vary depending upon the model type or brand name but usually is around 15 minutes at medium heat setting (275°F). Be sure not to overcook!
When finished cooking, carefully remove both baskets from the main body unit using oven mitts and allow them time to cool before serving up your perfectly cooked, deliciously seasoned veggies.
FAQs
Do You Put Salt In The Water Of A Steamer?
Yes, adding salt to the water of a steamer can help enhance the flavor of food.
How Long Does It Take To Steam Carrots In An Electric Steamer?
It typically takes 10 minutes to steam carrots in an electric steamer.
Do You Have To Peel Carrots To Steam Them?
Yes, it would be best if you peeled carrots before steaming them.
Do You Cover Vegetables When Steaming?
When steaming vegetables, it is best to cover the pot or pan with a lid so the steam can build up and cook the vegetables more quickly.
Does Steaming Carrots Remove Nutrients?
Yes, steaming carrots can reduce the amount of some vitamins and minerals. The longer you steam them, the more nutrients are lost.
Conclusion
The answer is yes! Steaming carrots in a steamer basket or other container is an easy and healthy way to prepare them.
The steam helps preserve the carrots' nutrients, color, and flavor without adding extra fat or calories.
Plus, it's fast, and you don't have to worry about your veggies getting soggy like when boiled.
So grab your vegetables, get out that steamer basket and enjoy some healthful deliciousness.
Happy cooking!