Quick Overview
It's no secret that steaming food, especially vegetables, can be better than other cooking methods. Steaming preserves water-soluble nutrients in vegetables.
It is an excellent method of cooking meat and fish, as well as helping to retain moisture, volume, and flavor.
Hence, we looked at a fantastic three-level steamer from AICOK to see its features, as well as for you to determine if it could be the next best gadget in your kitchen.
** TheMealExpert.com is supported by readers. We may earn a commission when you buy with our links — thank you!
AICOK Food Steamer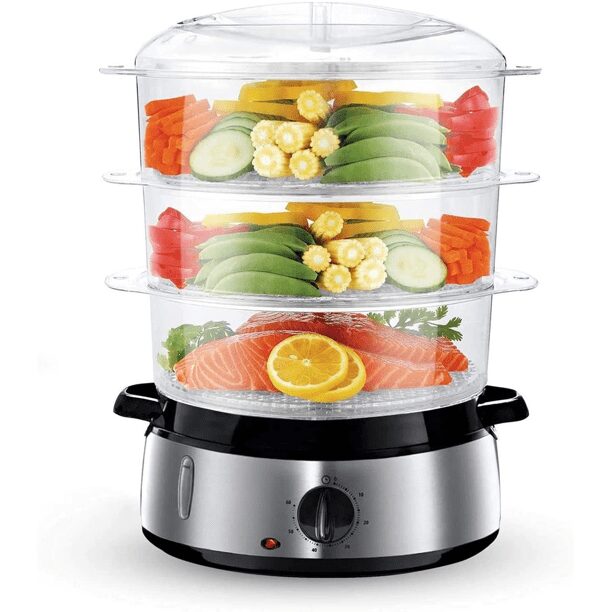 AICOK is a provider of premium products for the home. They hope the family's heart will always stay in the kitchen and around the dining table.
They are committed to giving you the best kitchen gadgets to help make your life easier and have more time to enjoy with your family.
Who Is This Product For?
This steamer has a large capacity, so it would suit families or couples who like to have lots of leftovers.
What's Included?
When your package arrives, you should receive your steamer's electric base, which also acts as the water reservoir.
You should also expect an oval-shaped, black drip tray that sits on top of the water reservoir, three large, semi-transparent stacking bowls for steaming your food in, a lid, and a special bowl for rice.
Overview of Features
This steamer is impressively large, accommodating enough food for a hungry or large family. With three stackable baskets offering a total of 9.5 quarts of capacity, you can easily cook an entire, well-balanced meal.
In addition, it can accommodate different cooking times by adding more layers as you go. You also get a free rice bowl for steaming rice inside one of the baskets.
This electric steamer heats up very fast, with 800 watts of power to get the steam going quickly. You just plug it in, fill up the water reservoir, and you're ready to go.
We love that the steamer has a timer function that lets you know when your food has finished cooking and automatically switches itself off for safety.
You can put your food on to cook, set the timer, and then not worry about falling asleep or missing the timer if you're out in the garden or on the porch.
If you don't have enough space in your kitchen, then you'll love that each basket is stackable, and the base unit itself is quite compact. It doesn't take up too much room in your kitchen cupboards.
The steamer will also automatically switch off if it runs out of water. You can add more water to the reservoir via a side funnel, eliminating the need to take any of the baskets off to refill.
This AICOK food steamer also comes with a two-year warranty so that you can be sure that it will last or that AICOK will help you if you have any problems with the appliance.
How to Use
This steamer is incredibly easy to use. You literally just plug it in, fill up the water reservoir at the bottom, and then stack as many or as few baskets as you need containing the food you want to be cooked.
With a timer operation and auto shut-off function, you can just twist the timer dial to your required cooking time and then forget until the bell sounds and your food is ready.
Alternatives
Hamilton Beach Digital Food Steamer
If the AICOK food steamer is just too big for your needs, then you should consider the 5.5-quart capacity food steamer from Hamilton.
This steamer has two stackable food baskets that would provide plenty of space to cook a good meal for two.
This steamer also comes with a rice bowl. One food basket has a handy feature comprising a series of holes in the bottom.
That makes it ideal for eggs to sit stably in or corn to be stood up in so they can cook more quickly and evenly.
The appliance switches to warm mode for one hour when the timer function reaches zero instead of auto shut-off. After the warm hour has elapsed, the auto-shut-off function kicks in for safety.
Conclusion
The smaller food steamer from Hamilton is a great appliance with some handy features, but we like the AICOK Food Steamer best.
Storage-wise, they take up a very similar amount of space but having the extra capacity of the larger steamer will always come in handy.
Just having the option to cook more food is great, as you can choose to use more baskets to accommodate guests for dinner.
We also love that the AICOK Food Steamer has a warranty, guaranteeing two years of trouble-free operation.
If you're thinking about getting a steamer, then the AICOK Food Steamer will make a great choice, and you'll probably be surprised at how much you use it.